Join USHCA for the second event in our Authors Series this year, as we invite Rebecca A. Fannin to discuss her latest book, "Silicon Heartland: Transforming the Midwest from Rust Belt to Tech Belt," which recounts her own journey while exploring our region's comeback.
With more and more tech companies moving operations to the Heartland, so comes an influx of remote workers from coastal cities. The trend of this burgeoning tech industry outside of Silicon Valley and increase of megatech companies and startups is derived from a trust in the Midwest and increased global investment in the inland region. How does the Heartland capitalize on this nationwide transition inward? What does this mean for Heartland residents and what economic and innovation policies can we expect?
Originally from the Heartland region, Rebecca A. Fannin is a media entrepreneur and has spoken on many major news outlets as an expert on Asia's entrepreneurial boom. She has an established career in journalism as a CNBC contributor and launched the media platform Silicon Dragon Ventures in 2010.
The event will also feature moderator Dan Schwartz, who is currently a member of the Band of Angels in Silicon Valley, a past publisher of AVCJ in Hong Kong, and is the author of The Future of Finance. He previously served as Nevada State Treasurer from 2015 to 2019.
Click the button below to register for the event:
Rebecca A. Fannin is a CNBC contributor, author of a newly published book Silicon Heartland, and a media entrepreneur. Her research and writing about Asia's entrepreneurial boom led to three prior books that have been published in multiple languages: Silicon Dragon (2008), Startup Asia (2011), and Tech Titans of China (2019). A guest on BBC, Bloomberg, Fox News, and NPR, and a quoted expert in the New York Times, she also has spoken at the Brookings Institution, Asia Society, and many universities, including Harvard, Yale, and Oxford.
Rebecca grew up in Lancaster, Ohio, graduated from Ohio University's Scripps School of Journalism, and started her journalistic career at Dayton's morning newspaper. After leaving the Appalachian foothills for new horizons, she wrote for several publications including Red Herring, Forbes and Harvard Business Review, and was an international editor at Ad Age and Multichannel News. In addition to her features and special reports for CNBC, she also contributes to thought leadership papers published by major firms.
In 2010, inspired by the many entrepreneurs she interviewed in emerging hotspots, she launched Silicon Dragon Ventures as a media platform covering tech innovation and venture capital frontiers and hosting events globally, including in China, Israel and the U.K. as well as Silicon Valleys in the U.S.
Her new book, Silicon Heartland, brings Rebecca back to her homeland to explore the region's comeback from the Rust Belt as a Tech Belt ─ and to discover the roots of her own journey. The book has been endorsed by several business leaders including John Chambers, Steve Case, Jim Breyer and Maelle Gavet of Techstars as well as Congressman Ro Khanna. In its review of the book, Publishers Weekly noted that this "short but meaty travelogue packs a punch."
Rebecca currently divides her time between Silicon Valley and New York City.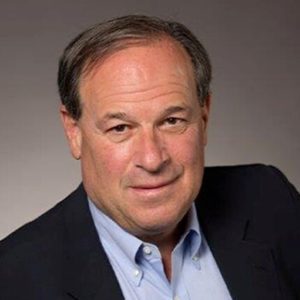 Dan is currently a member of the Band of Angels in Silicon Valley. The Band is a group of early-stage investors focused on technology and digital-oriented start-ups. Previously, he served as Nevada State Treasurer, 2015-2019. During his term in office, Dan revamped the State's investment program, quintupling (5x) returns on the General Fund; backed parental choice (ESAs); launched a College Savings Program aimed at creating a "culture of education" in Nevada; and, reduced the processing period in unclaimed property from 120 to 25 days. Among Nevada's elected officials, he uniquely questioned the Faraday Future project, saving Nevada taxpayers $175 million in defaulted bonds.
Prior to serving as State Treasurer, he purchased and turned around a struggling financial publication and founded the world's first digital media delivery platform. He served as the CEO of AVCJ Group, Ltd. (AVCJ), which publishes the highly-regarded Asian Venture Capital Journal. An innovative entrepreneur, Dan was Founder, President and CEO of Qiosk.com, "The World's Newsstand." Dan began his career on Wall Street in Corporate Finance.
Dan grew up in suburban Chicago, and received his undergraduate degree from Princeton; J.D. from Boston University; and his MBA from Columbia. During his junior year, he studied at Sciences Po in Paris, receiving his Certificat d'etudes politiques. After college, he enlisted in the United States Army during the Cold War and was stationed on a Pershing missile nuclear base in Germany.
Dan has authored The Future of Finance: How Private Equity and Venture Capital Will Shape the Global Economy (John Wiley). He also published Fire Bell in the Night (Sturdy Oak Press), a look at the principles which underlie American democracy. Both are available on Amazon.
Dan is married, the father of two daughters, and resides with his wife, Yanan, in Las Vegas. He is also a member of the Illinois bar.
Praise for 'Silicon Heartland'
"An indispensable book for founders, investors and change-makers." 
-Jim Breyer, founder & CEO, Breyer Capital
"A book that inspires hope for our future." 
-Congressman Ro Khanna, author of Dignity in a Digital Age   
"Silicon Heartland explores the tech innovation frontier emerging in states that were once centers of commerce but were left behind when they didn't adapt to new technologies."
-John Chambers, founder and CEO of JC2 Ventures and chairman emeritus of Cisco Systems
"An uplifting journey into America's all-too-often overlooked
Midwest…the untold story of the Rust Belt rising."
-Maëlle Gavet, CEO of Techstars and author of Trampled by Unicorns
"Helps readers understand the entrepreneurial communities that are working to turn cities between the coasts into 
promising innovation hubs."
-Steve Case, co-founder of AOL and Revolution Ventures
"An insightful look into the rebirth of cities and a region that launched American leadership in the global economy."
-Dan Schwartz, past publisher, Asian Venture Capital Journal, former Nevada treasurer, and author, The Future of Finance
"A must-read for anyone who believes that entrepreneurial success is only possible on the coasts. The Silicon Heartland welcomes you!"
-Brad D. Smith, president of Marshall University and former chairman and CEO of Intuit
"
Few journalists I know have truly been 'out there,' deeply connecting with their subject like Rebecca. Her family's personal history in the Midwest allows her to truly hear what's happening
."
-Brian Cohen, founding partner, NY Venture Partners, and chairman, Science Literacy Foundation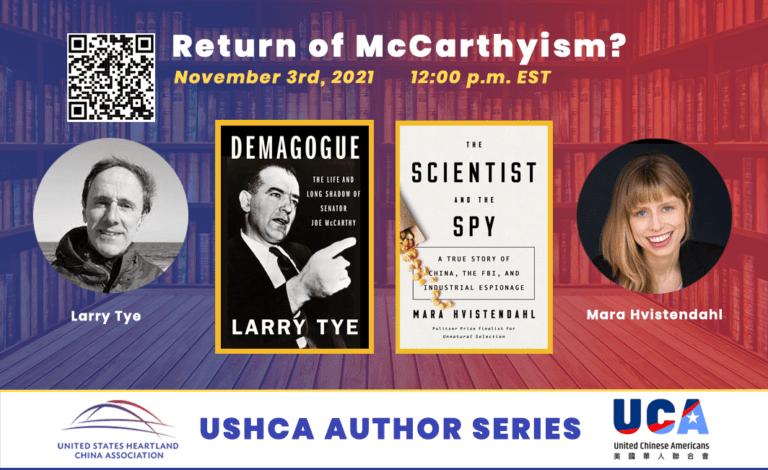 At this time of political divide in America and tension between the U.S. and China, many symbols of the Cold War era are coming to haunt us today. From the Justice Department's much criticized China Initiative to the re-emergence of McCarthyism in America, there are alarming signs that, if we are not careful, our country may once again go down a troubling path, especially for Chinese Americans who are stuck in the middle.
What lessons can we learn from the past that can help us prevent a repeat of policies and rise of demagogues that will lead our country down a path of ruin? US Heartland China Association and our partner United Chinese Americans jointly invite two award-winning American authors to share their thoughts on this important topic.
Read More »