The struggle of securing employment during a pandemic is hard – especially for foreign- born job applicants. Moreover, finding a helpful guide to navigate that process is even harder! This special event will feature USHCA's next spotlighted author whose book is being touted as a "tremendous asset" for foreign-born applicants seeking employment.
Join USHCA for our fourth author event as we invite Betsy H. Cohen to discuss her first book "Welcome to the U.S.A.-You're Hired!: A Guide for Foreign-Born People Seeking Jobs." Betsy has mentored and advised international students, international executives, and many foreign-born people for their job searches and career advancement. The event will also feature special panelist USHCA board member Qiaoni "Linda" Jing, a former international student from China herself who is now the CEO of Genective, a global AgTech company headquartered in the U.S.
Students and faculty who are interested in getting their copy of "You're Hired!" can buy directly from USHCA and also receive a free year of USHCA membership! A limited number of books are available, so please email Jason Conley ASAP or by 2/17 at jconley@usheartlandchina.org.
Betsy Cohen is the Executive Director of the St. Louis Mosaic Project, a program of the World Trade Center St. Louis within the St. Louis Economic Development Partnership. The goal is to attract and retain international people to St. Louis for their skills and cultures to add to our population and diversity. This work is done through collaborations with hundreds of local organizations, universities, corporations, cultural groups, faith organizations, K–12 schools, immigration agencies, and government entities. Betsy has mentored and advised international students, international executives, and hundreds of foreign-born people, work-authorized job seekers personally and through social media.
Betsy has worked with hundreds of international people in their job searches and career advancement. Betsy had an extensive corporate career in marketing at an international consumer goods company. She is a graduate of Wellesley College and the Harvard Business School. She is on the advisory board for the St. Louis University Chaifetz School of Business and on the Cortex Innovation Community committee for diversity, equity, and inclusion. Previously, she served on other community boards and committees and ran a regional network. She was recognized as a Most Influential Businesswoman by the St. Louis Business Journal and as a Woman Business Leader by the YWCA. In 2021, she was recognized by the National Conference for Community and Justice of Metro St. Louis for promoting respect among diverse communities.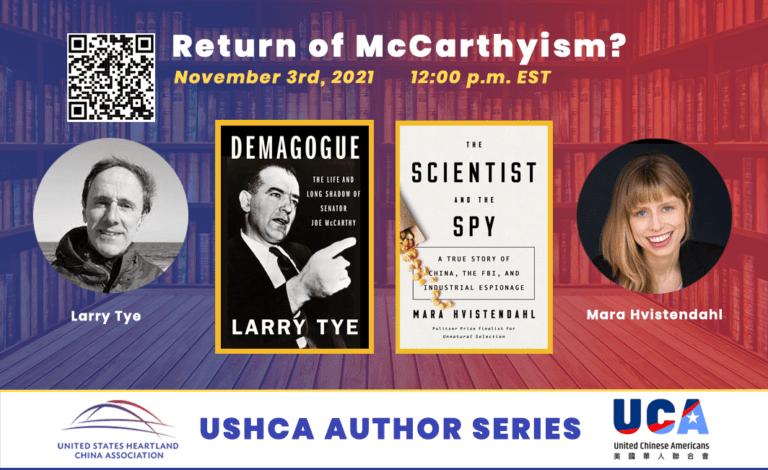 At this time of political divide in America and tension between the U.S. and China, many symbols of the Cold War era are coming to haunt us today. From the Justice Department's much criticized China Initiative to the re-emergence of McCarthyism in America, there are alarming signs that, if we are not careful, our country may once again go down a troubling path, especially for Chinese Americans who are stuck in the middle.
What lessons can we learn from the past that can help us prevent a repeat of policies and rise of demagogues that will lead our country down a path of ruin? US Heartland China Association and our partner United Chinese Americans jointly invite two award-winning American authors to share their thoughts on this important topic.
Read More »