USHCA brought to a close our multi-city viewing and speaking tour this spring, bringing the critically acclaimed documentary "Far East Deep South" to two more Heartland cities in 2023 (click here for Part 1).
The film tour is part of a broader outreach effort to engage communities across the country and to promote dialogue around issues of identity and cultural heritage. The tour is supported by a grant from the Henry Luce Foundation to honor the stories of early Chinese American immigrants in the Heartland region, broaden awareness of their contributions as well as the discrimination they experienced alongside African Americans, and promote better understanding between our communities today.
The award-winning documentary, Far East Deep South , explores the seldom-told history of Chinese immigrants living in the American South during the late 1800s to mid-1900s through the eyes of Charles Chiu and his family as they travel from California to Mississippi to find answers about his father, K.C. Lou. The film provides a window into the lives of the Chinese immigrants in the South and the discrimination they faced in the midst of segregation. The film not only highlights the struggles and perseverance of the Chinese, but explores the racial dynamics between the white, Black and Chinese communities and the added challenge of exclusionary immigration policies, such as the Chinese Exclusion Act that many families faced at that time.
New Orleans, Louisiana- hosted by Tulane University (February 7th, 2023)
In February of 2023, the second leg of this tour brought a free film viewing, producer-led discussion, and Chinese-Cajun cuisine together for a truly special cultural experience at Tulane University in New Orleans, Louisiana.
Thanks to a successful partnership with Tulane University, the Liberal Arts College, and the Center for the Gulf South, we were able to kick off Mardi Gras with an gathering of nearly 100 students, professors, and community members from across New Orleans to discuss the special history shared by Chinese Americans and African Americans, and how that unique history has affected race relations today.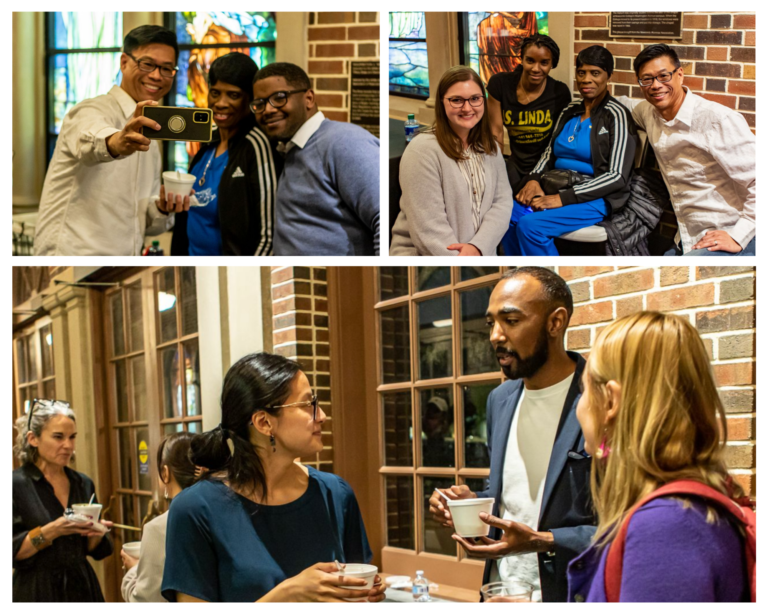 Baldwin Chiu, the producer of the film, along with Dr. Jerome Dent, Professor of Communications and Africana Studies at Tulane, led the audience through a discussion on generational trauma, shared history, and hopes for the future. Ms. Linda Green, "the Yakamein Lady," joined the pair to share her perspective on shared history and how that created a space for the Chinese Americans and African Americans of previous generations to come together over cuisine. The dish, Yakamein, has been in her family for generations, and she spoke of the women in her family working alongside Chinese American women in the kitchens of New Orleans – unknowingly creating a bond and recipe that would become famous among all walks of life in New Orleans.
Thank you to the team at Tulane, Ms. Linda Green, and all others who made this event possible. To read more about Linda Green, or to learn about Yakamein, click here.
Columbus, Ohio- hosted by Ohio State University and the Greater Columbus Chinese Chamber of Commerce (April 15th, 2023)
Our stop in Columbus included two screenings; the first was held on Ohio State University's campus, at the very heart of Columbus. Prior to the event, local media outlets The Columbus Dispatch and Columbus Underground, as well as the OSU student-run paper The Lantern covered the event to help spread the word. The chance to learn more about Chinese American history drew a wide ranging audience, including OSU students and local community leaders and educators. With some pizza from a popular local restaurant to break the ice, the event quickly became a very intimate moment as attendees opened up and chatted with one another, wanting to learn more about each other and why they came to see the film.
After another emotional showing of Far East Deep South for our tour, members of the audience were eager to ask co-producer Baldwin more about his experience with filming, about his family history, about what he thinks of the history of xenophobia and how it relates to the present day.
Once he had answered all of the audience questions, Baldwin let them know that a special surprise had been arranged; to honor his father's birthday (his father, Charles Chiu, being an integral part of the film telling the story of how he sought his own father's burial place in Mississippi), not only had CGCC arranged for a cake to be delivered to celebrate, but Baldwin brought up his wife and father on the screen in real time so that audience members could sing him Happy Birthday. This was an irreplicable moment, bringing joy to both the viewers as well as Charles. Even as the official event wrapped up, participants lingered to chat with each other and Baldwin, wishing to share their own stories.
The second showing was held at a hotel in the downtown area as part of the ASIANetwork conference. The ASIANetwork is "a consortium of over 150 North American colleges" which "promotes education about Asia within the liberal arts. Our member colleges prepare their undergraduates for a world in which Asian societies play prominent roles in an ever more interdependent world."

With an audience geared towards university professors and educators, this proved to be an exciting opportunity to both engage with some of our communities' most valuable members, as well as a chance to amplify the message of the film. This was an audience passionate about Asian representation in the educational system, and included a Q&A session modeling how said educators could hold difficult discussions surrounding the topics of race and history in their own classrooms. 
At a time of growing tension in the Heartland and the U.S. at large, we remain strongly committed to promoting films like Far East Deep South which tackles difficult topics about race and our national history. We believe that bringing this film into our Heartland communities offers a unique opportunity to share unique stories and foster understanding. Thank you to the Henry Luce Foundation, all of our local partners, Baldwin Chiu, Larissa Lam and their entire family for making this tour possible!
For more information about "Far East Deep South" please visit the film's website at www.fareastdeepsouth.com."Far East Deep South" is a deeply personal and moving documentary about a Chinese-American family's journey to uncover their roots and reclaim their history. The film follows Charles Chiu and his family as they travel from California to Mississippi in search of their ancestral roots and the story of Charles's father, who emigrated from China to the American South in the 1950s. The film explores themes of identity, family, and cultural heritage, and it offers a powerful and inspiring message about the resilience of the human spirit.The film has received numerous accolades, including Best Documentary Feature at the Austin Asian American Film Festival and Best Documentary at the Charlotte Asian Film Festival. It has also been selected for the upcoming Newport Beach Film Festival and San Diego Asian Film Festival."