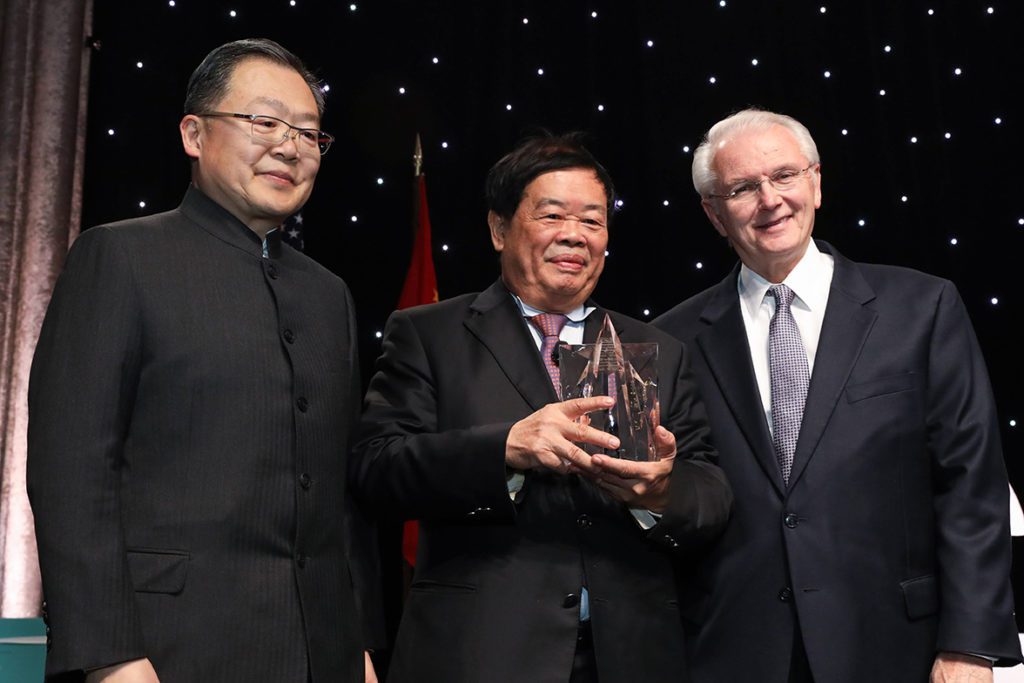 New York, NY – On Wednesday, January 8th, at the Chinese General Chamber of Commerce 2020 Lunar New Year Gala and 15th Annual Celebration, CGCC Chairman and Bank of China USA President and CEO, Xu Chen, and USHCA President and Former Missouri Governor Bob Holden presented "The Most Influential Business Person of the Year" award to Cho Tak Wong, Founder and Chairman of the Fuyao Glass Industry Group. Chairman Cho was honored for leading the way in Chinese investment in the US and for his profound impact on local community economies, particularly in the American midwest.
On Wednesday night, over 600 business leaders and representatives from the US and China gathered at the New York Hilton in midtown Manhattan to celebrate the Chinese General Chamber of Commerces' (CGCC) fifteen landmark years and to welcome in the new year. The CGCC is the largest non-profit that represents Chinese investment in the US and is committed to strengthening US-China cooperation. The CGCC also used this opportunity to express gratitude to member companies and to honor individuals and corporations who strengthened US-China business relationships, promoted economic development and continually practiced social responsibility.  Host Xu Chen, Chairman of the CGCC and President and CEO of Bank of China USA, and keynote speaker Cui Tiankui, Chinese ambassador to the US, expressed gratitude to the CGCC and remarked at the significance of this event, and of the CGCC and it's member companies for their commitment to building bridges of friendship and cooperation, particularly as the US-China relationship becomes increasingly complex. 
Fuyao Chairman Cho Tak Wong, along with three other individuals and corporations, were uniquely awarded for their influence in fostering US-China business cooperation and for their social responsibility in benefiting local communities, thus exemplifying the gala's key themes of "Responsibility" and "Appreciation." James Quincey, Chairman and CEO of The Coca-Cola Company, the International Vitamin Corporation and ND Paper were honored with awards. Finally, 12 member companies were recognized as "CGCC 15th Anniversary Outstanding Contribution Honorees."
USHCA Governor Holden and CGCC Chairman Xu Chen, presented Cho with "The Most Influential Business Person of the Year" award for trail-blazing Chinese investment in the US. In 2015, Cho and Fuyao brought manufacturing jobs back to Dayton, Ohio, by re-opening a recently shut-down GM factory as an automotive glass manufacturing plant under the newly created Fuyao USA. Along with bringing back thousands of jobs and sparking economic growth, Chairman Cao's investment in the US exemplifies US-China cooperation and bridges nations and cultures. The story of Fuyao's investment in Dayton even inspired the award-nominated 2019 documentary, American Factory, 美国工厂. Since 2015, Fuyao has invested 700 million in the United States, created over 1,700 new manufacturing jobs in the midwest and reclaimed over 1.5 million sq. ft of unused factory space. 
In a fireside chat, Chairman Cho shared his personal business philosophy, "初心" CHU XIN, or  "when you want to do something, when you have a goal or a big vision, you have passion to get it done." Cho also shared his strategies for creating and sustaining Fuyao USA. Cho remarked that when investing in the US, it is important to understand American laws and culture in order to be confident in decision making and informed in action. Also, regarding Fuyao's 43 successful years of operation, Cho stresses the importance of clarity in one's goals and intentions, and the importance of taking all things seriously.
The USHCA and Governor Holden are pleased to honor Chairman Cho in collaboration with the CGCC. Fuyao's investment in the midwest has already, and will, play a key role in revitalizing certain midwest economies and in building cooperation between China and the US Heartland.
The USHCA is a non-profit organization that is committed to building bridges between China and the US Heartland through educational programs, cultural exchange and business cooperation. More information about our mission and ongoing projects can be found at usheartlandchina.org.