Meet Me on the Mississippi: USHCA Team Visits Partners in Missouri
May 22, 2022 - St. Louis, MO
Missouri has always been a must-go destination for the USHCA team. It is the home state of our Chairman & CEO, former Governor of Missouri Bob Holden, who opened Missouri's first trade office in China in 2004. It is also where many of our Heartland partners are headquartered, such as the US Soybean Export Council, Mississippi River Cities and Towns Initiative, the American Legion Boys and Girls State, as well as Lincoln University, which is one of our first 1890 HBCU partners.

Last year, we learned even more about Missouri and its special place in U.S-China relations from the data gathered in our Why China Matters to the Heartland project. One of the major connecting points to China in Missouri is St. Louis. Readers of our special report: Finding Firmer Ground – the Role of Agricultural Cooperation in U.S.-China Relations (page 38) will recall that St. Louis is a major hub along the Mississippi Ag Coast of America, where significant quantities of agricultural outputs from the heartland are shipped to global markets overseas, including China.
Over 2 days, from March 23 to March 24, our small USHCA team convened in Missouri to catch up with local partners. Our first stop was Jefferson City where we paid a visit to Lincoln University. Dr. Majed El-Dweik, Dean of the College of Agriculture, Environmental, and Human Sciences at Lincoln University met with USHCA Chairman & CEO Bob Holden and staff members Katherine Newton and Jason Conley. Dr. El-Dweik shared the development at Lincoln University since we were last in contact with him before the pandemic. In tandem with our efforts with 1890 institutions, the USHCA team shared programs that may be of interest to the students and faculty members at Lincoln University. Many ideas for education exchanges with China were discussed.
After a breakfast with USHCA Board Member and President & CEO of Genective Linda Jing the next morning, the USHCA team met with the American Soybean Association (ASA), which had invited USHCA Executive Director Min Fan to write a piece for its 2021 summer magazine: A Season to Plant Peace. The USHCA team discussed with ASA CEO Stephen Censky and economist Scott Gerlt ideas to carry forward the success of the 2022 US-China High-Level Agricultural Dialogue, which was sponsored in part by the US Soybean Export Council.
Later, our group then headed to the Gateway Arch National Park, where we were joined by our summer research intern Ellen Wright, a long-time USHCA supporter Gary Kellman and his daughter, Weiwei. We all boarded a riverboat for a close-up tour of St. Louis' logistics assets along the Mississippi Ag Coast organized by St. Louis Regional Freightway. As Captain Kevin East navigated up and down the mighty Mississippi, Susan Taylor, Port Director of the St. Louis Development Corporation, narrated to the guests aboard the different assets along the way like the river's railroads, warehouses, barges, silos, and ports. It wasn't that long ago in September of 2020 when USHCA addressed the developing state of infrastructure along Mississippi River in our webinar: Mission Critical – Infrastructure. It was great to hear that the recent passing of the Infrastructure Bill has brought great hope and opportunities to the communities along the Mississippi River.
Why is the Mississippi River Important?
The Mississippi River is one of the world's major river systems in size, habitat diversity and biological productivity. It is also one of the world's most important commercial waterways and one of North America's great migration routes for both birds and fishes.
-National Park Service
There is so much to consider along this great American waterway as it courses through 10 states—Minnesota, Wisconsin, Iowa, Illinois, Missouri, Kentucky, Tennessee, Arkansas, Mississippi, and Louisiana—it would seem easy to overlook a few pieces.
As the nation's second-longest river, behind only the conjoining Missouri, the Mississippi provides drinking water for millions and supports a $12.6 billion shipping industry, with 35,300 related jobs. It's one of the greatest water highways on earth, carrying commerce and food for the world. 
-americanrivers.org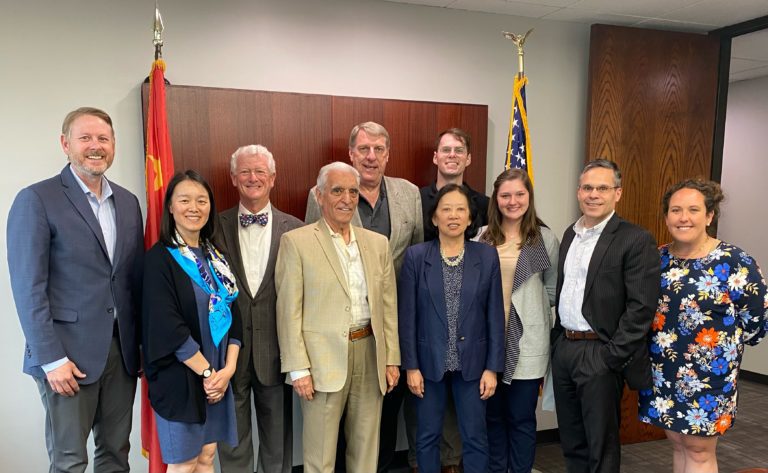 After the Riverboat tour, we met with our partners at the World Trade Center and World Affairs Council St. Louis, our co-organizer for two recent public programs: 
Great ideas on future collaboration were shared and we are all excited to work together to open more doors to China for Missouri.
We wrapped up our visit to Missouri with a dinner hosted by our partner, the Mississippi River Cities and Towns Initiative (MRCTI). Four mayors were present at the dinner along with federal agency leaders from FEMA and many partners that provide service and support to cities and mayors in the region. We learned much about the latest challenges and opportunities for the cities along the Mississippi River and how USHCA can be of help. MRCTI recognized USHCA again for the PPE donations that we secured for the cities along the Mississippi back in 2020. MRCTI Executive Director Colin Wellenkamp even noted that "USHCA's support saved lives in our community!"
The US Heartland China Association is a 501(C)3 bipartisan organization that is dedicated to building healthy ties between the heartland region of the United States and the People's Republic of China. USHCA builds those ties through promoting exchanges in culture, education and business. More information is available at USHeartlandChina.org.