Business Built on Personal Connections
In November 2019, the US Heartland China Association and the China-US Exchange Foundation brought the mayors of four Heartland cities to China, where they learned about the range of opportunities that US-China cooperation can bring to their areas.
The mayors were often reminded of something the staff at the US embassy in Beijing told us: if you want investment from China, you have to establish personal connections there.
Below are some of the connections made by mayors Jim Brainard (Carmel, IN), Tito Brown (Youngstown, OH), Rich Carr, (Maumee, OH), and Paul TenHaken (Sioux Falls, SD). Click on the hyperlinked names for press on the mayors' trips.
Contact us to e-introduce a Heartland mayor you would like us to include in our next mayors delegation to China.
Led by USHCA Chair & CEO Bob Holden (governor of Missouri 2001-2005), the delegation introduced their cities to a group of Guangzhou Municipal Government officials, led by Executive Vice Mayor Chen Zhiying.
Guangzhou, a city whose population is roughly five times that of Chicago, is the capital of the wealthy province of Guangdong, and the point from which all direct Western trade with China began, over 250 years ago.
Vice Mayor Chen welcomed the establishment of sister city relationships between districts of Guangzhou and many Heartland cities.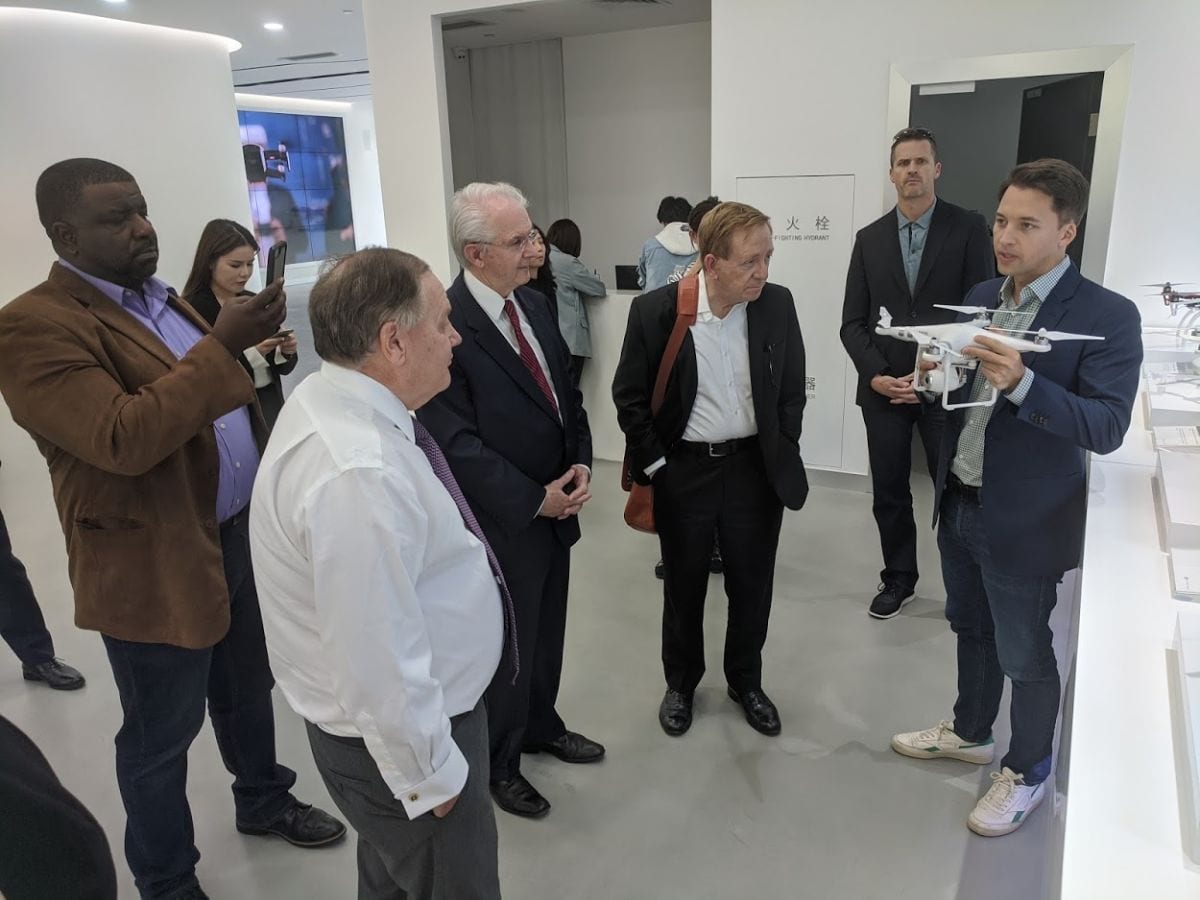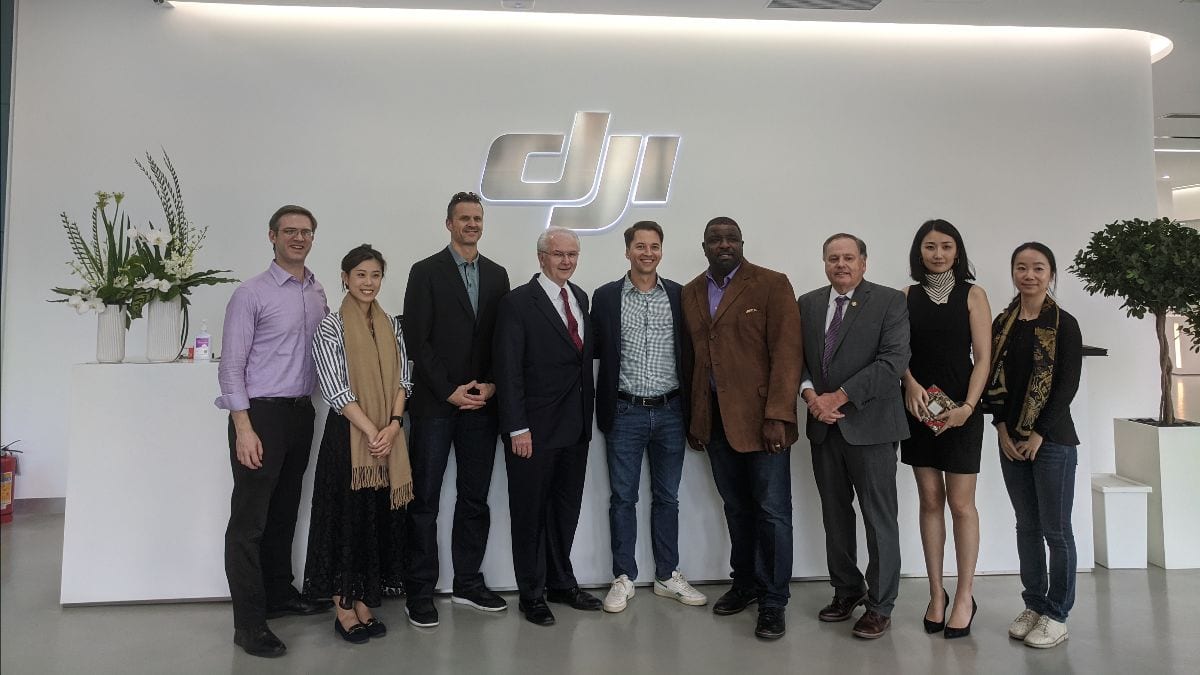 In Shenzhen, Jan Gasparic of DJI introduced the company's quadcopter drones and gimballed handheld digital camera. DJI is preparing to begin assembling drones in Los Angeles to better serve the US market. Many opportunities exist for Heartland companies to develop proprietary payloads for DJI drones.
The delegation met with staff at the US embassy in Beijing and from the US Consulate in Guangzhou. The meetings were led by Beijing Charge d'Affairs Bill Klein and Guangzhou Principal Commercial Officer Betsy Shieh, respectively.
Both conversations emphasized the value of continued dialogue and cooperation between US and China.
In Guangzhou, the delegation visited Kwangfeng Industrial Company, which raises and processes yellow chickens for sale in Chinese grocery stores and restaurants.
Chairman Tan Jutian prepared chicken for the group after mutual introductions and VP Jiang Weifeng gave a brief tour. VP Jiang indicated that they mix their own feed using soybean meal that used to come from the US; they welcome a resumption of tariff-free trade in agricultural products.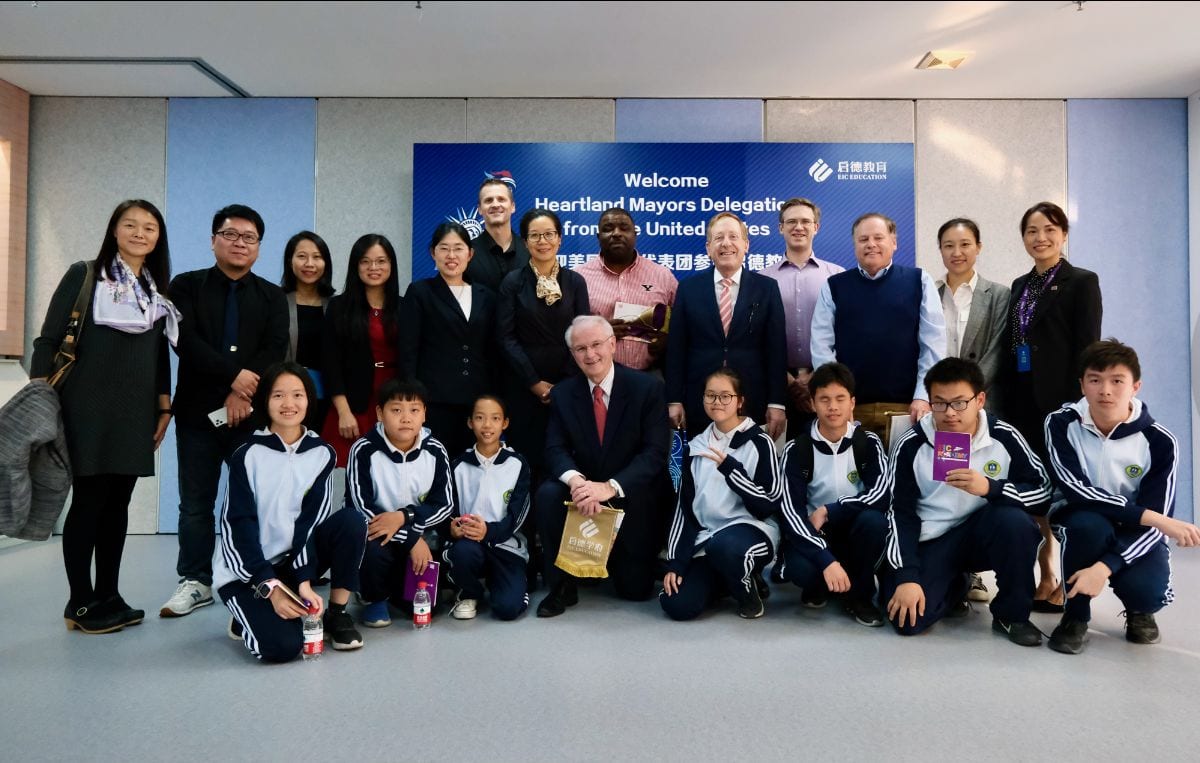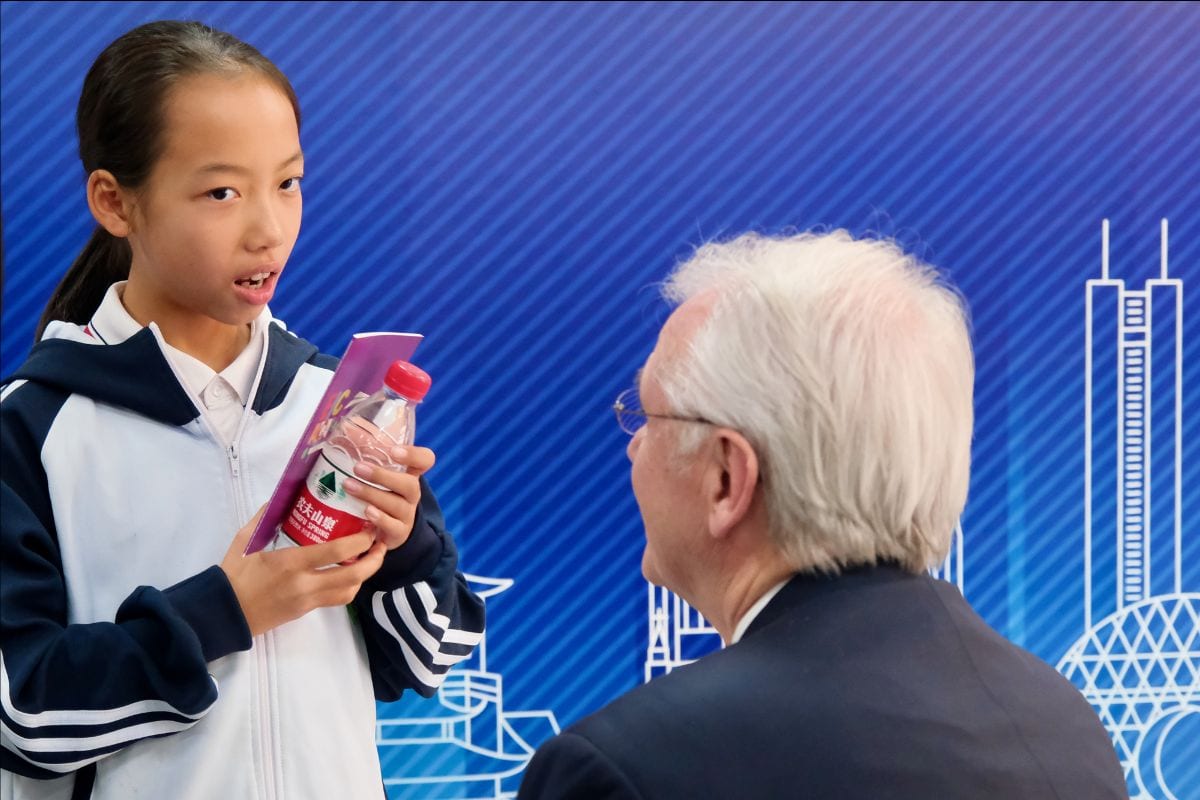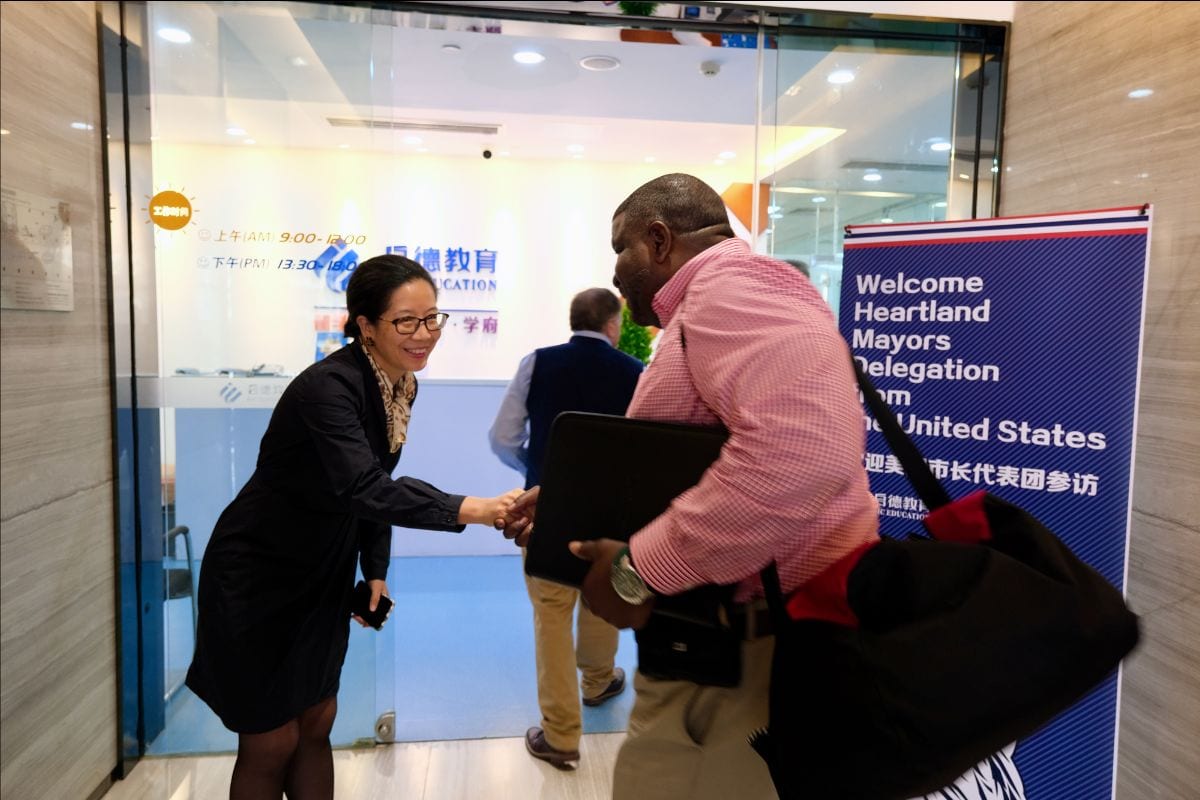 The mayors visited the Guangzhou office of a well-known Chinese study abroad agency, EIC Education. EIC helps Chinese students prepare for the exams that they need to take in order to study abroad and then helps them apply to high schools, colleges and graduate programs overseas.
Many US colleges and universities in the Heartland do not have the resources to do the education fair circuit in China; an efficient alternative – or supplement – is to establish relationships with agencies like EIC that help parents and their children choose the schools abroad to which they will apply.
Many thanks to incoming USHCA executive director Min Fan for setting up this visit (Top photo, 2nd row, far left)
The exchange of "first-time meeting gifts" (见面礼) are an important part of establishing the trusting relationships that lead to concrete cooperation.
The mayors took turns gifting our hosts at each site visit. Here, Mayor Brown of Youngstown gifts Youngstown- and Youngstown State University-themed items to Ma Lu of Capital Medical University, and Mayor Carr of Maumee presents a city flag and commemorative coin to Hu Gewei of Beijing Electric Vehicle Company.
During a visit to global law firm King & Wood Mallesons' Guangzhou office, the delegation found that about half the KWM staff present held law degrees from Heartland law schools, demonstrating that Heartland cities have among Chinese alumni of Heartland schools a tremendous pool of resources for establishing relationships in China.
Many thanks to Dirk Thomas of Eagle Pathways for setting up this visit.
In Shenzhen, the delegation visited two Chinese tech startups serving the domestic Chinese market that are more than happy to consider partnerships in the Heartland.
On the left, Founder and CEO of Mantunsci Technology, Seawin Liu, demonstrates how their internet-connected smart circuit breakers can save money and downtime for operations that need reliable supplies of electricity.
On the right, Chief Engineer Dr. Liu Zhiru of KLclear Technology Co. inspects a gift of 3D-printed items from the Youngstown Business Incubator. KLclear designs battery management systems for electric vehicles, making it a good contact for Youngstown, where the recently-shuttered Lordstown GM plant will soon reopen to manufacture batteries for electric vehicles. The new operation will anchor an ecosystem of e-vehicle companies.
Many thanks to venture capital investor Liu Zhongqing for setting up these visits.
In Shenzhen, Deputy Director General Richard Zhong of the Shenzhen Foreign Affairs Office demonstrated "Shenzhen Speed" (深圳速度) by immediately assigning to a subordinate the matching of Shenzhen municipal sub-districts to the four mayors' cities for sister city relationships.
Shenzhen is a city of 12 million with nine sub-districts. Each district has distinct business and cultural environments, from the bustling original Hong Kong border crossing in Luohu District, to the enormous container port in Yantian District, to the high-tech hub of Nanshan District, home of tech giant Tencent.
A week-long visit to three of China's four Tier-1 cities (Beijing, Guangzhou, Shenzhen) with meetings with government officials, educators, and business people takes a lot of work to put together and this trip was entirely a team effort.
Many thanks to the local Foreign Affairs Office staff from Beijing, Guangdong Province and Shenzhen who helped make this visit happen.
This photo, with Vice President Xie Yuan of the Chinese People's Association for Friendship with Foreign Countries (center, with orange tie), shows some key players in the planning and delivery of this trip:
Alice Hui, CUSEF Senior Program Director, 3rd from right
Marina Chen, Friendship Association Program Manager, 1st from left
Melody Chan, CUSEF Program Director, 2nd from right
Why China Matters to the Heartland – 2023 Event January 31, 2022 – Virtual Webinar On Tuesday, January 31st, USHCA hosted the highly anticipated 2023
Read More »