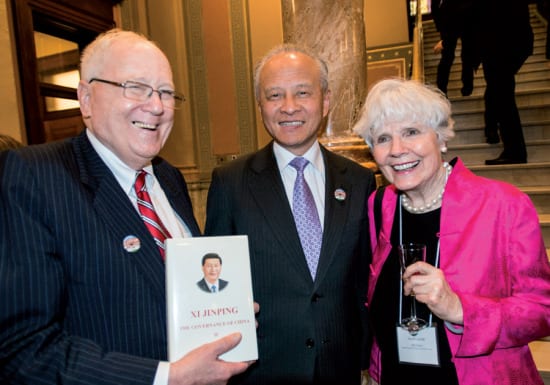 Ambassador Cui Tiankai, China's top diplomatic representative to the U.S. for the last eight years, departed Washington in late June in time to return home for the centennial anniversary celebration of the founding of the Chinese Communist Party on July 1.
During Ambassador Cui's tenure, Sino-American bilateral relations rose and fell much like a ride on one of the ubiquitous roller coasters that can be found at State Fairs throughout the Midwest. Always clearly representing his country's views, his ability to effectively adjust to the changing public tone of the exchanges between the two capitals was a tribute to his professionalism as a diplomat. 
It was during a succession of events in the Heartland, and in particular in my home state of Iowa, that I had a number of  opportunities to interact with Ambassador Cui and to join in promoting "citizen diplomacy" efforts to enhance friendly relations between the Chinese and American peoples. 
Ambassador Cui arrived in the United States in 2013, just one year after then Vice President Xi Jinping made his return visit to Des Moines. In my capacity as president of the World Food Prize, I hosted the U.S. – China Agricultural Symposium, at which President Xi delivered the keynote address. That event marked a high point in official U.S. – Chinese relations, as there was also a contract signing ceremony in our building for the sale of $3.5 billion of American soybeans to China.
The legacy of President Xi's Iowa connection, which began with his historic visit to the town of Muscatine in 1985 when he was a 31 year old county level Party Secretary in Hebei Province, drew Ambassador Cui to Iowa in May of 2018. At that time, Sarah Lande, one of the Iowan's who had welcomed young Xi Jinping to her home in Muscatine 33 years earlier, was launching her book " Old Friends: The Xi Jinping – Iowa Story."
In my remarks, I noted that it was an honor to host this event in the same room of my Foundation's Hall of Laureates in which Vice President Xi spoke in 2012. Ambassador Cui gave a stirring presentation about President Xi's unique connection to Iowa and middle America. He also noted that this same room had also been the site for a 2017 "Think Tank" symposium that was organized by the Chinese Academy of Social Sciences and which my World Food Prize foundation co-sponsored. The Ambassador then posed for a photo with Sarah Lande and me.
Still another important interaction came a year later in Washington, D.C. In 2019, Ambassador Cui graciously accepted my invitation to attend our World Food Prize Laureate Announcement at the U.S. State Department. Secretary of State Mike Pompeo was also a participant and it was my honor to bring Ambassador Cui and him together for a discussion about an extremely important presidential-level communication.
Shortly before leaving the United States, Ambassador Cui wrote a very thoughtful letter to me about our mutual efforts to promote and enhance the relationship between our countries. Referring to me as "an old friend of China and President Xi Jinping," he particularly expressed thanks for my efforts as an advisor to the United States Heartland China Association (USHCA) "in promoting communication and cooperation between the U.S. heartland states and China."
In concluding his letter, Ambassador Cui emphasized that "The Chinese Embassy will continue to support the USHCA in its facilitation of exchanges and cooperation between heartland states and China." I believe that these comments by the Ambassador are directly related to the highly successful U.S. – China Agricultural Roundtable that the USHCA organized this past spring. 
Over this 4th of July weekend, just three days after China celebrated the 100th anniversary of the founding of the Chinese Communist Party, one other sentence in Ambassador Cui's letter particularly stands out. He wrote that:
"The world today is confronted with so many daunting challenges that stronger China – U.S. coordination and cooperation should be our common priority, and it is also indispensable for the entire world."
This was exactly the theme and the message of the USHCA led Agricultural Roundtable.