United States Heartland China Association hosted an interesting and substantive session that begins a conversation among Heartland mayors that was moderated by Mayor James Brainard (Carmel, Indiana), who has played a variety of major roles at the U.S. Conference of Mayors. Governor Bob Holden, Chairman and CEO of USHCA, opened the session.
The principal speaker, Professor Simon Johnson (MIT) is noted for, among other things, his role as Economic Counselor and Director of Research at the International Monetary Fund (IMF), and the author of numerous publications, including his recent book "Jump-Starting America, How Breakthrough Science Can Revive Economic Growth and the American Dream". The scholarly yet practical book outlines a forward-looking and politically savvy plan for developing the new American growth engine. It identifies over one hundred communities (60% of which are in the Heartland), that, with the right kind of help, including the federal government, can achieve a more innovative and dynamic future.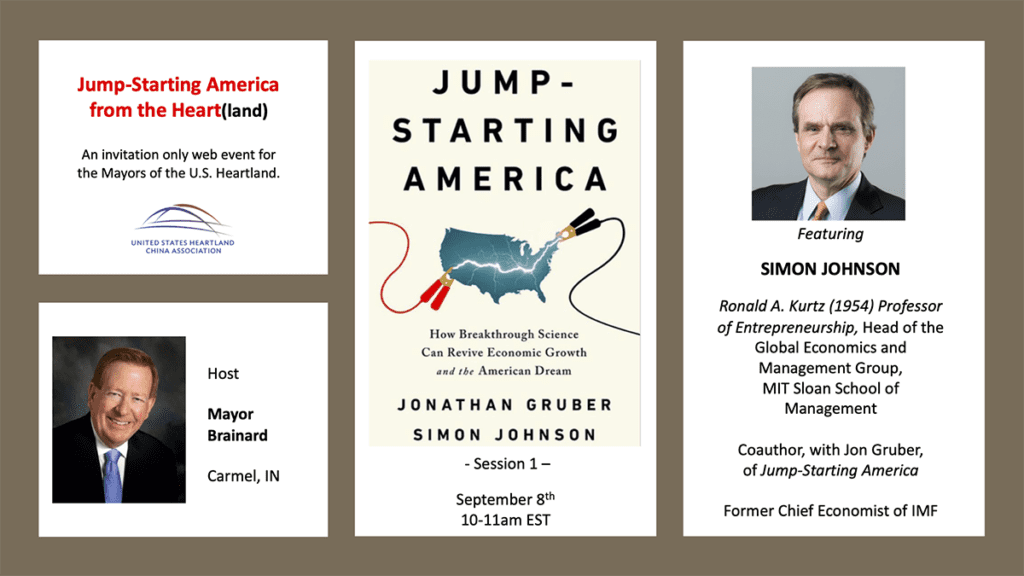 After Prof. Simon's remarks, there was a lively interchange of questions and ideas among the dozen mayors (representing eight states). The professor covered a wide range of topics, from the practical execution of the plans, prerequisites for success, and funding in these challenging times. The conversation will continue with these parties and other mayors who were unable to join last week. Overall, there is a great deal of interest and enthusiasm with respect to the prospects for the Heartland and all its citizens.
Mayors participated in cities from:
Waukesha, WI
Lubbock, TX
Rochester, MN
Dublin, OH,
Hoover, AL
Beatrice, AL
Springfield, IL
Knoxville, TN
Massillon, OH
Talladega, AL
Carmel, IN