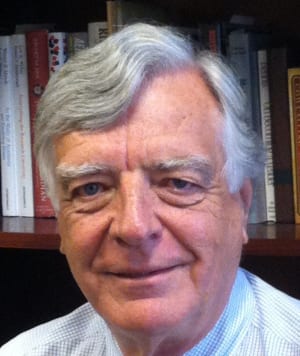 The U.S. Heartland China Association deeply regrets the passing of Dr. Daniel Johnson, board member and Chair of our Economic Development Committee. A sociologist by training, Dan chaired that department at Virginia Commonwealth University before moving to the University of North Texas as Dean of the School of Community Service and subsequently to appointments as Provost at the
University of Alaska at Anchorage and President of the University of Toledo, where he was a principal architect of the merger that led to what is now the UT College of Medicine and Life Sciences. After leaving the President's office he continued to write and work on economic development until his appointment as Provost (chief academic officer) of Zayed University in Dubai and Abu Dhabi (a national institution of the United Arab Emirates, with U.S. academic accreditation, serving UAE citizens). A greatly admired academic and community leader, Dan was a long-standing proponent of international education and was especially interested in the U.S. – China relationship.
Blaine Brownell, Education Chair – Board Member USHCA
Regardless of what I could say, the acts of the man, Dan Johnson, were so much gigantically larger than the  words that  I could put to paper. He believed in people and cared about people. The major difference between Dr. Dan Johnson and someone else is that he didn't just talk about what should be done in a situation….. he walked it, through his positive action. The  "World" and not just Toledo, is a much better place to live because  of Dr Johnson. He will be missed by me and all the people who were made better through his quiet actions. He was the truest image of a Diplomat.
Michael P. Bell , Mayor of Toledo, Ohio ( 2010 – 2014)
I was deeply saddened to learn the passing of our dear friend, colleague, and Chairman of the United States Heartland China Association Economic Development Committee, Dan Johnson.
In Dan's latest book, With Gratitude…Memories I Want To Pass On, Dan talks about his life, people he and Elaine and their children and family met, the many people he with worked with, and the many individuals that they were inspired by on his travels through life.
Dan will be severely missed by all of us who relied on his advice, wisdom and compassion.  Dan was someone you could talk to and reason with for you knew he would give you sound advice and good common sense.
Dan led an amazing life – from his childhood, to the states and countries where he resided, and the many issues and causes he championed as he traveled down his life's path.  He wrote in his most recent book, With Gratitude, "I feel extraordinarily lucky, even blessed to have had so many wonderful life experiences over the past six decades and so many wonderful friends and family".
I got to know Dan later in life and we became close friends.   I often called on him for advice and guidance.  I will greatly miss our conversations.
To his wife Elaine, sons Darin and Brent, brother Mark, and his four grandchildren, I and all involved with USHCA, are grateful for Dan.  He will be missed but never forgotten.
Gov. Bob Holden, Chairman and CEO USHCA
I was shocked and saddened to learn of the passing of my dear friend Dan Johnson. We spoke at length just a few weeks ago about his passion for the University of Toledo and the City of Toledo. When I served as Ohio Lt. Governor and Ohio Director of Development, Dan was a trusted advisor, and when Dan wrote his book on economic development, he honored me by asking me to write the forward. He was kind, humble, and brilliant. My deepest condolences to his wonderful family. My thoughts and prayers are with them.  He will be missed by all of us who loved him.
Lee
Lee Fisher
Dean, Cleveland-Marshall College of Law |Cleveland State University
Joseph C. Hostetler-BakerHostetler Chair in Law
Lieutenant Governor of Ohio (2007 – 2011)