2022 U.S.-China High-Level Agricultural Dialogue brings Old Friends and New Friends Together in Iowa
Building on two successful virtual U.S.-China Agriculture Roundtables in 2021 and 2022,  the U.S. Heartland China Association and the China Agricultural Association for International Exchange (CAAIE) collaborated closely with the U.S. Embassy in Beijing and Chinese Embassy in Washington D.C. to organize the 2022 U.S.-China High-Level Agricultural Dialogue on April 21, 2022 in Des Moines, Iowa. 
This event featured the U.S. Ambassador to China Nick Burns, participating live via Zoom from Beijing, and the Chinese Ambassador to the U.S. Qin Gang, who attended in person. They were joined by Old Friends of Chinese President Xi Jinping, such as former Ambassador to China and the longest serving Governor of the U.S., former Governor of Iowa, Terry Branstad, and USHCA strategic advisor, former U.S. Ambassador to Cambodia, Kenneth Quinn, as well as many new friends who are working to promote better U.S.-China relations through agriculture.  Close to 200 agribusiness executives, community leaders, students, and diplomats attend this in-person event at the World Food Prize Hall of Laureate in Des Moines Iowa.

Before Chinese Ambassador Qin Gang and his wife arrived in Des Moines, they had visited Muscatine–a city in which Chinese President Xi had spent some time when he was a young county-level cadre from Hebei province back in the 80's.  Ambassador Qin also visited with Sarah Lande, an old friend of President Xi, the Kimberly Farm, and the Amana Colonies, where President Xi's father, then Governor of Guangdong province, Xi Zhongxun, had visited as the leader of the first Chinese provincial leaders delegation to the U.S. in 1980.  
When Ambassador Qin Gang and his wife Madame Lin arrived at the historical World Food Prize Hall of Laureates in downtown Des Moines, where the reception and dialogue would take place later that evening, Ambassador Kenneth Quinn, a USHCA strategic advisor, and his wife Le Son greeted them and gave them a tour of this historical building.  Originally the Des Moines Public Library building, the World Food Prize Hall of Laureates was restored to its former glory under the leadership and vision of Ambassador Kenneth M. Quinn where he was the President of the World Food Prize for over twenty years.  Ambassador Quinn was inspired by the visions of World Food Prize founder Dr. Norman E. Borlaug, and together they worked tirelessly to promote peace through agriculture. 
Of special importance to U.S.-China collaboration in agriculture are commemorative elements throughout the World Food Prize building.  From the two Chinese winners featured on the wall of the World Food Prize Laureates to a bronze plaque that commemorated the historical 2012 U.S.-China High-Level Agricultural Symposium that took place in this very building when then Chinese Vice President Xi Jinping delivered the keynote address, and a commissioned painting showing the interesting stories that connect both Chinese President Xi and his father to Iowa.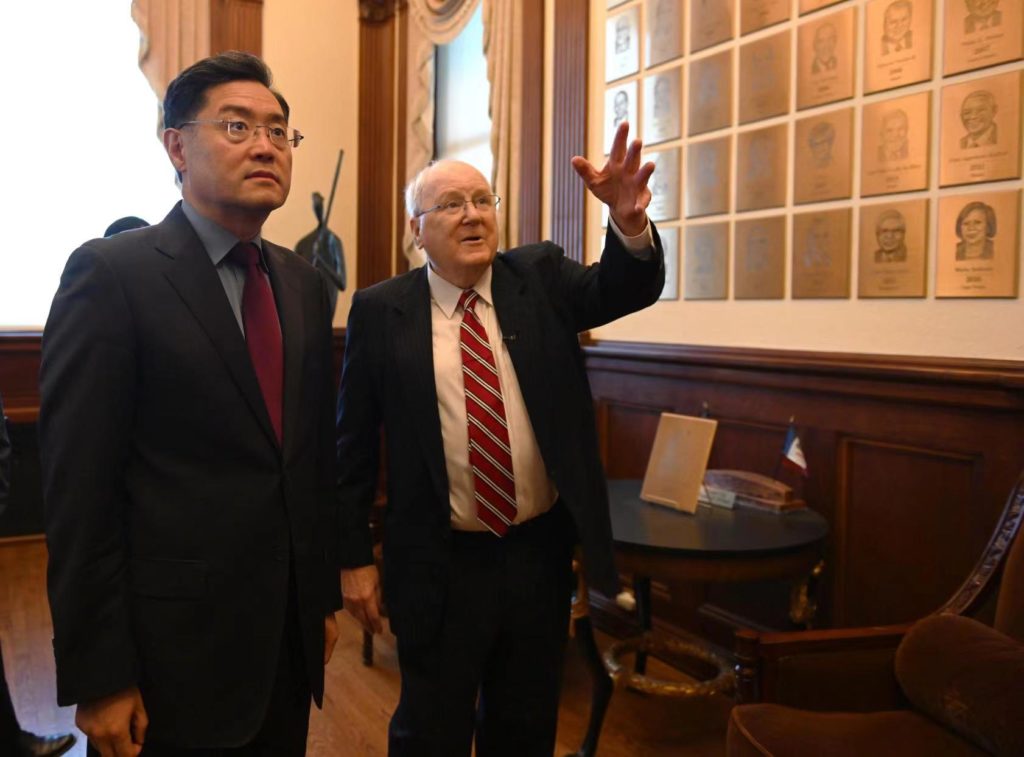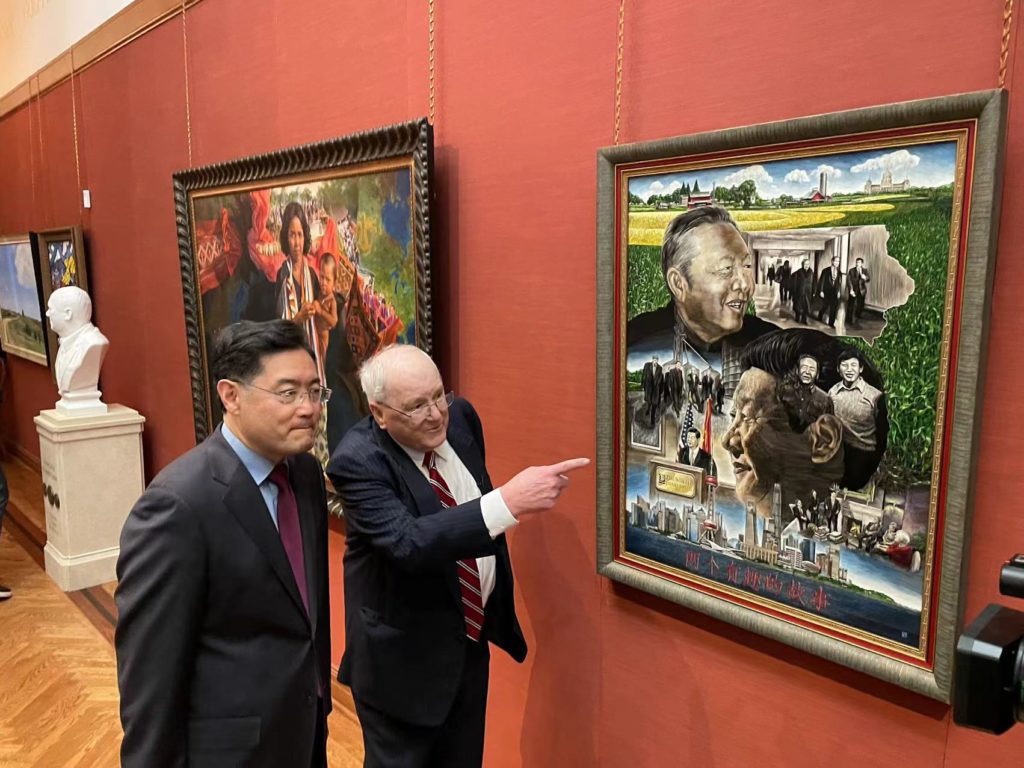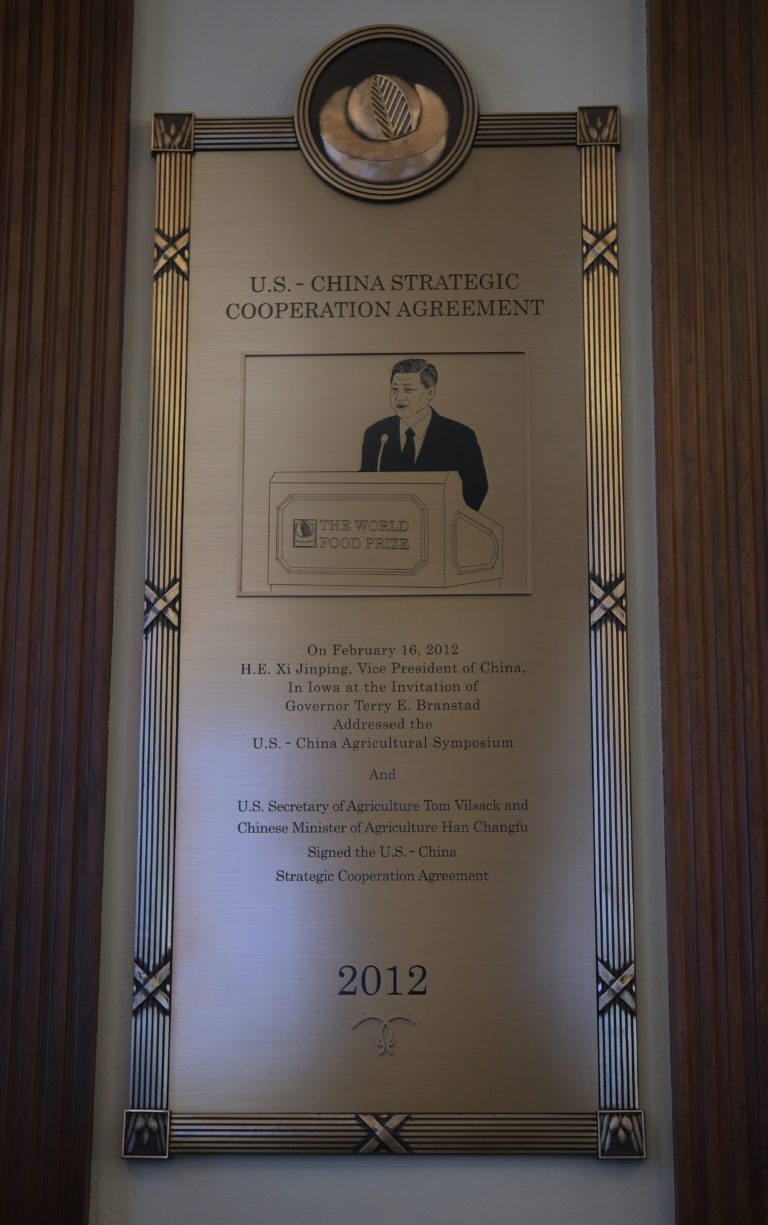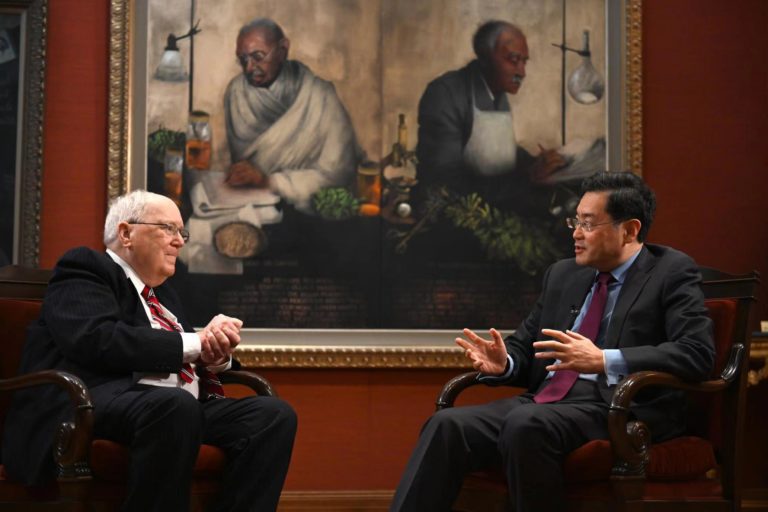 The evening program started with a reception in the Ruan Laureates Room where the 2012 U.S. – China High Level Agricultural Symposium took place. After two very long years of virtual events, it was exhilarating for all the attendees to get together in this historical setting with such honored guests.  Many agricultural leaders who participated in the event 10 years ago remembered fondly that contracts worth $3.5bn in U.S. soybean exports to China were signed at that symposium.  
At the reception, Barbara Stinson, current President of the World Food Prize, welcomed everyone to this historical venue, followed by greetings from Min Fan, Executive Director of USHCA. Chinese Ambassador Qin Gang gave reception remarks, then joined the former U.S. Ambassador to China Terry Branstad and Ambassador Kenneth Quinn in a toast to advance mutual benefit between both our countries, and the great friendship between the Iowanians and the Chinese people.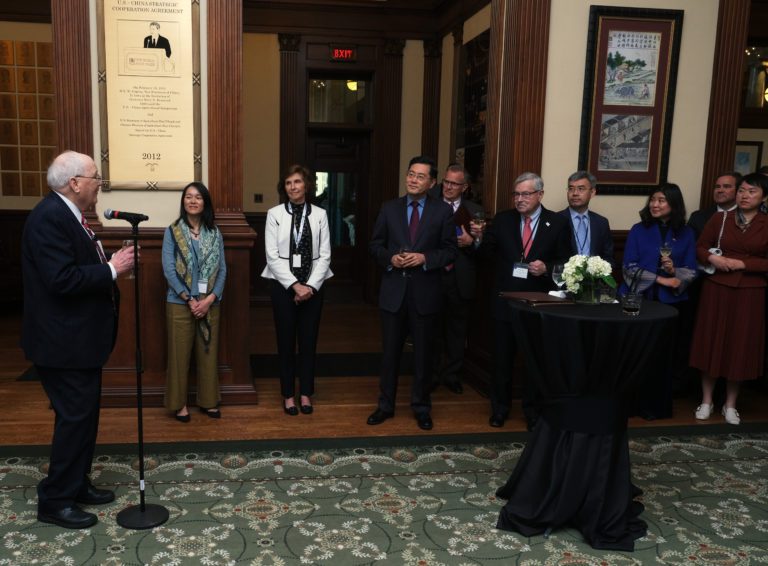 After welcome remarks from the leaders of both co-organizers, USHCA's Chairman & CEO, former Governor of Missouri, Bob Holden, and President of CAAIE Mr. CHEN Xiaojia, Ambassador Kenneth Quinn, as the master of ceremony, led the 2-hour dialogue.
Former Governor of Iowa, and former U.S. Ambassador to China, Terry Branstad reminded all the attendees of Iowa's rich history with China, and the importance of friendship between the two countries. Ambassador Qin Gang then spoke fondly of the hospitality he received and friendship he developed on this trip to the American Heartland, "a place with HEART," and the importance of agricultural trade for both countries. This was followed by remarks by U.S. Ambassador to China Nick Burns, who highlighted the importance of the U.S. and China's shared roles in promoting global peace and security, and the global importance of agriculture trade.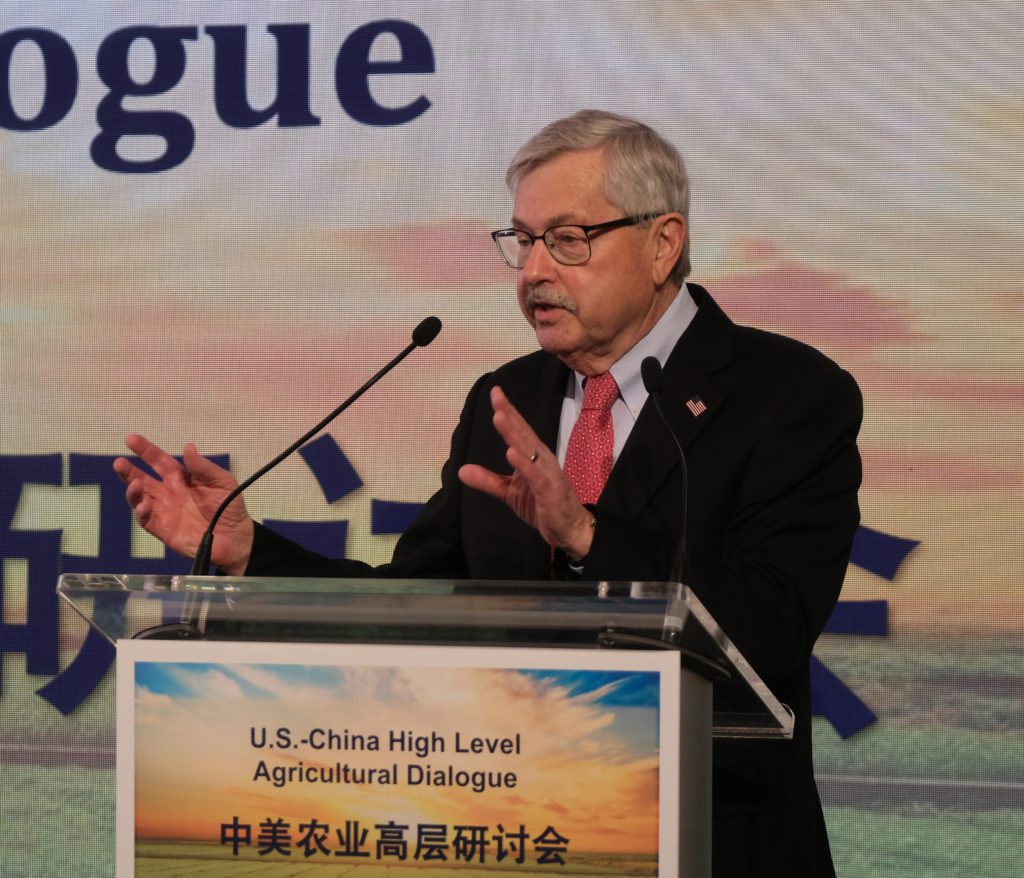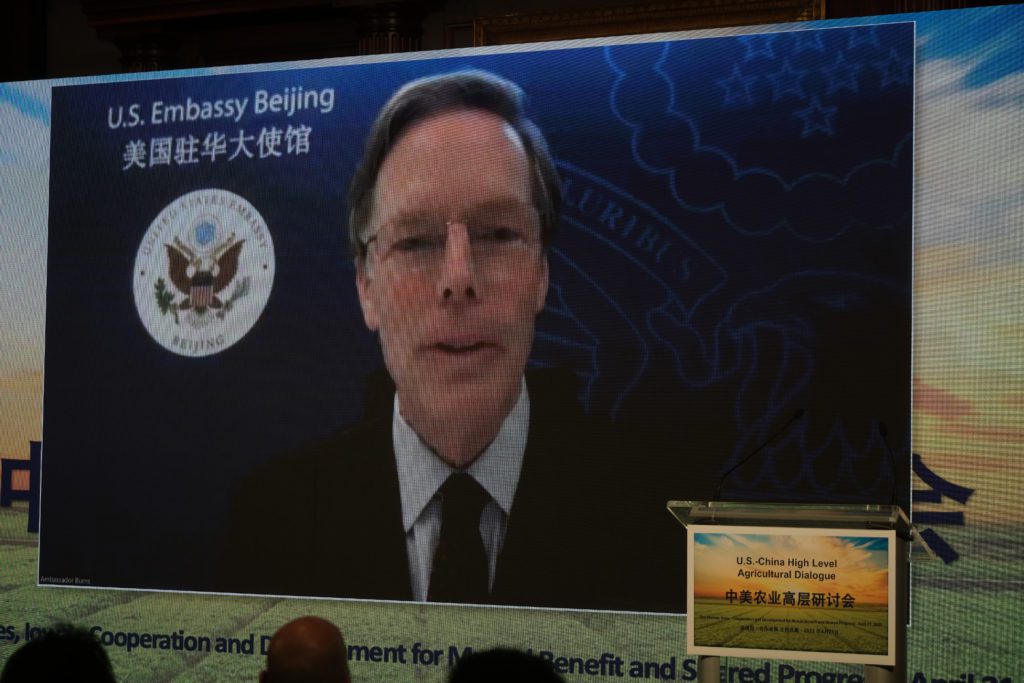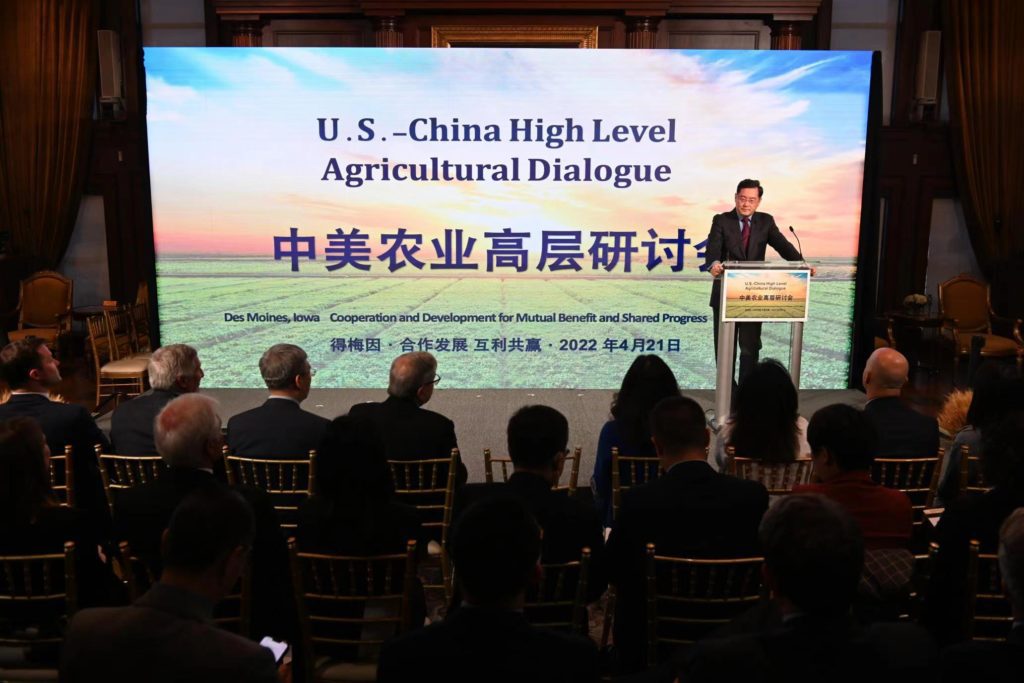 The historical Opening Remarks of the three Ambassadors were followed by Craig Floss, the CEO of the Iowa Corn Growers Association, who announced a record-breaking sale to China: over 700 million USD of corn from Iowa to China in the month of April– the largest single purchases of corn by China or any country globally.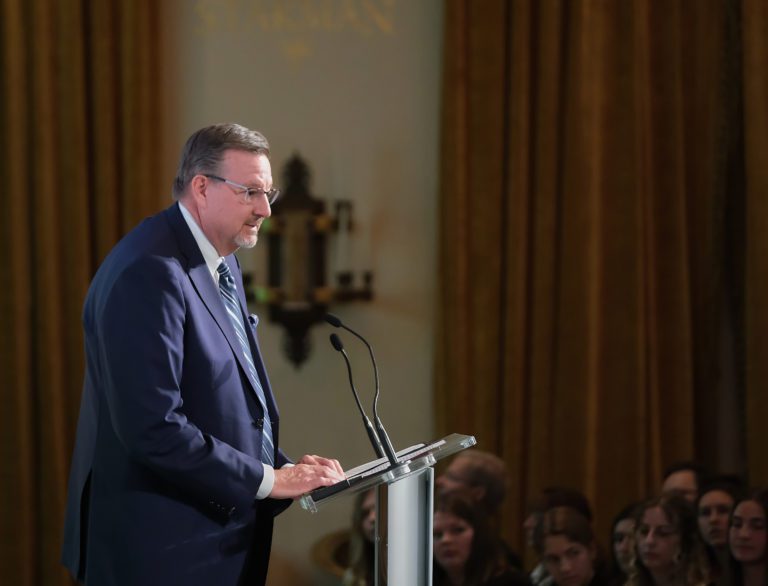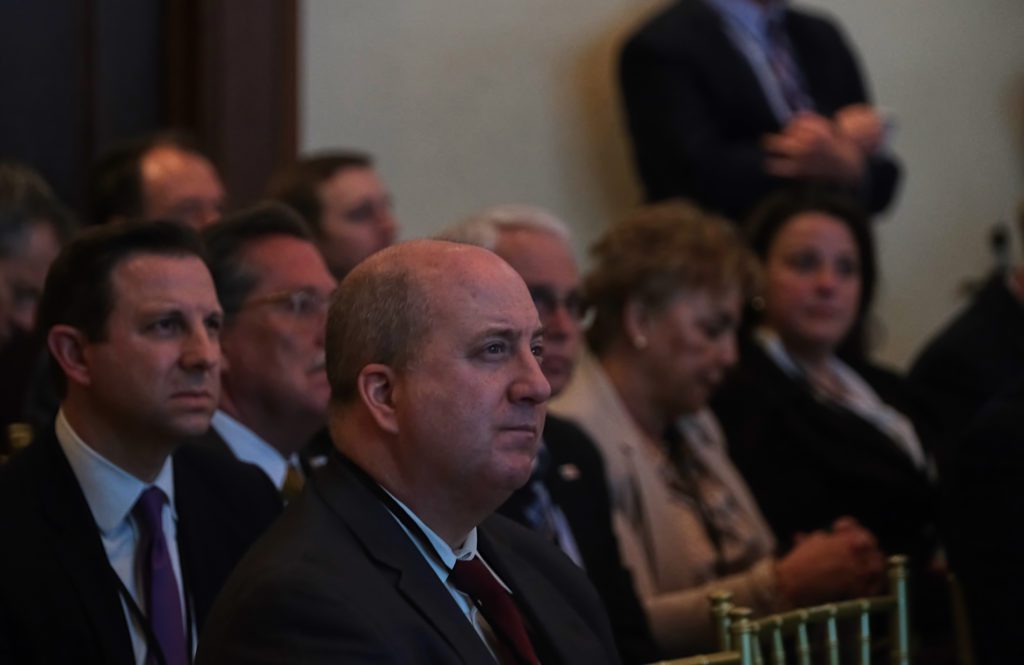 That announcement was followed by a senior leader panel of Agriculture industry CEOs from Continental Grain, Syngenta, the U.S. Grains Council, the U.S. Soybean Export Council, as well as the Vice President of China Agricultural University (via Zoom) moderated by Ambassador Kenneth Quinn. All the leaders shared their insights and ideas to increase both U.S. – China two-way trade and enhancing global collaboration in feeding the 9 to 10 billion people who will soon be on our planet 
Ambassador Kenneth Quinn was quick to remind attendees that respectful and tangible interactions are not only what a successful bilateral relationship are built on, but these kinds of interactions are the only foundation strong enough to provide the world with answers to global challenges such as climate change, feeding the world in healthy and sustainable ways, and preventing future pandemic diseases. 
Attendees were so energized by this dialogue that many gathered for photos in celebration of this historic event.  Discussions are already under way to plan the 2023 U.S.-China Agriculture Dialogue, maybe in China!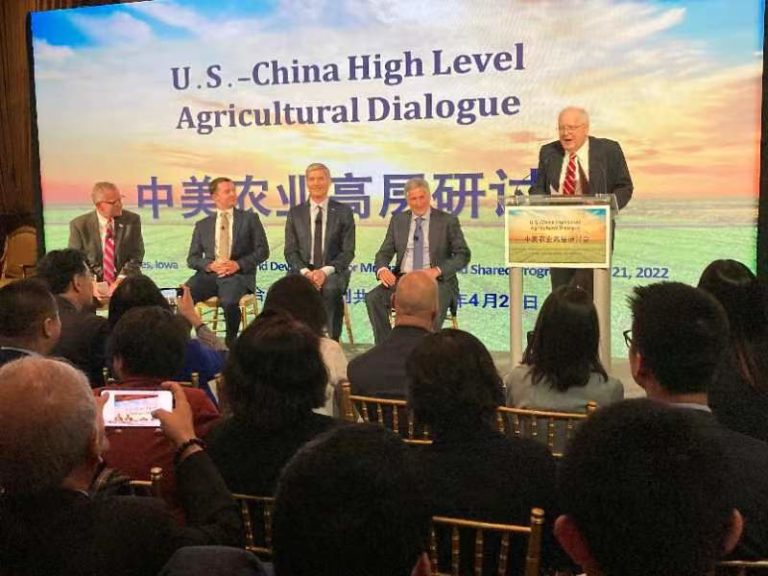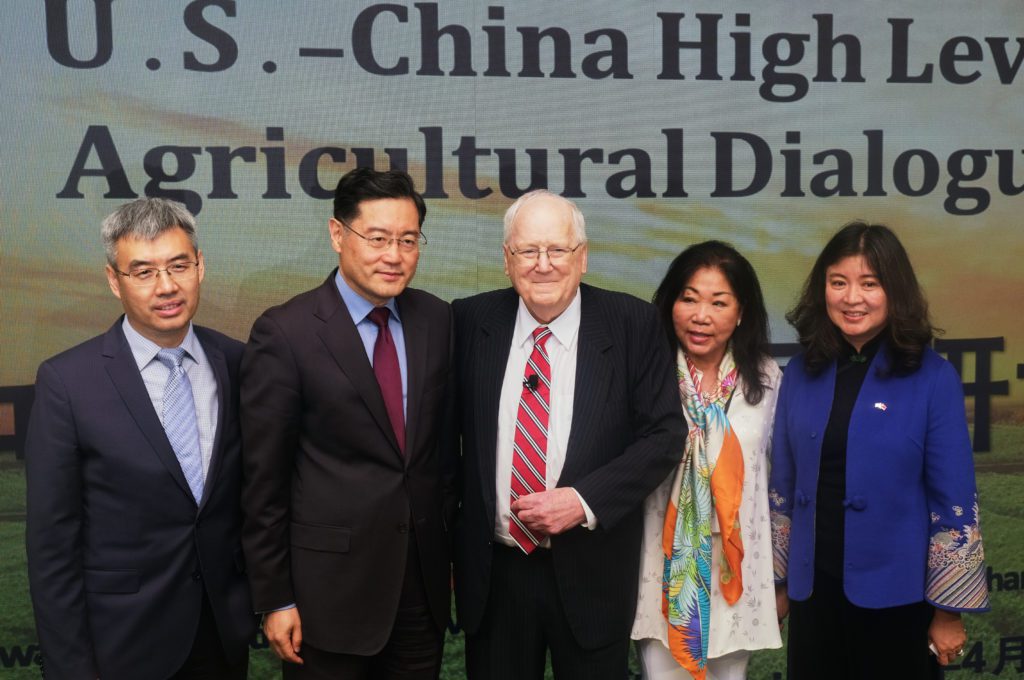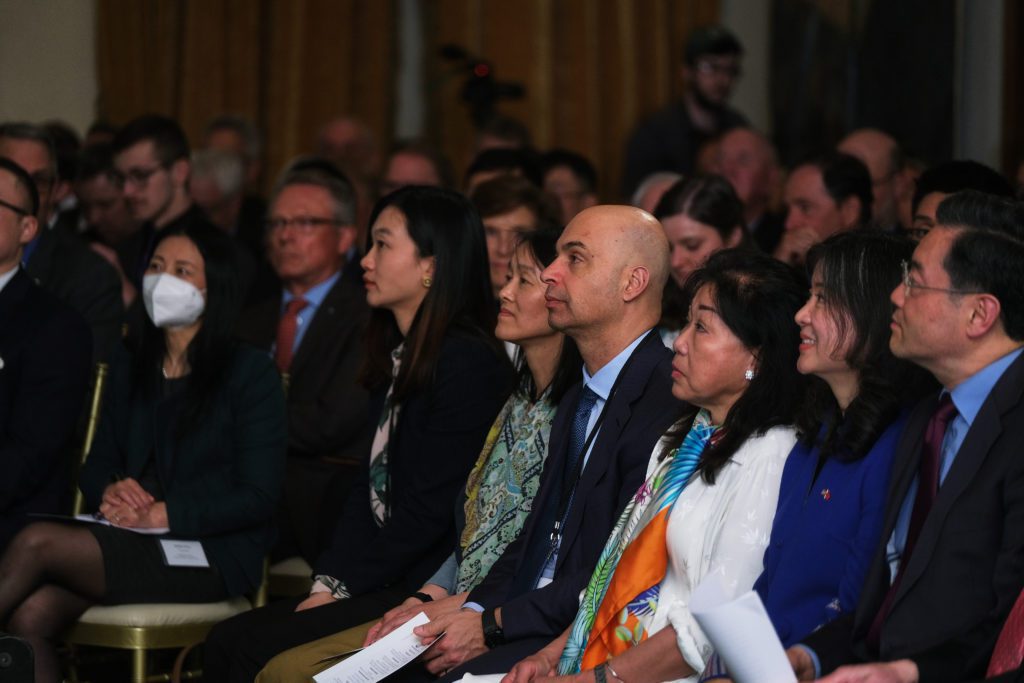 This High-Level Agricultural Dialogue received much positive coverage in both countries and is yet another example where USHCA can promote peace between the U.S. and China by creating unique platforms for continued bilateral dialogue around agriculture.
USHCA wishes to thank the sponsors that made this special event possible:
Notable Mentions & Media Coverage
"With the unprecedented participation of three Ambassadors from and to China, the U.S. – China High Level Agricultural Dialogue in Des Moines showed that agriculture provides an opportunity for positive developments during an otherwise difficult and contentious bilateral relationship," stated Ambassador Kenneth Quinn.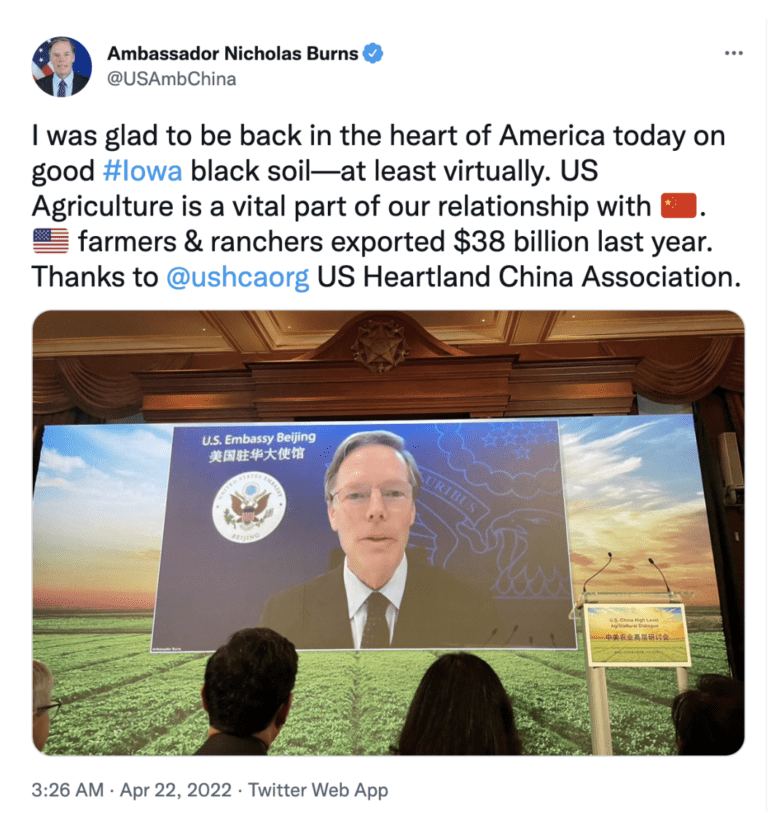 Chinese Ambassador Qin Gang: Looking back on a journey to the Heartland and to my heart – The Des Moines Register
"I leave the Heartland with my heart filled with friendship and cooperation, and more importantly, filled with confidence in the future of China-U.S. relations. Just as the mighty Mississippi River cannot be stopped by any undercurrent in its course to the sea, I am convinced that the China-U.S. relationship will also keep surging ahead, towards a better tomorrow.
American Heartland, until we meet again!"
-Chinese Ambassador Qin Gang
2022 High-Level Ag. Dialogue Replay
2022 Ag. Roundtable Replay
2021 Ag. Roundtable Replay
The US Heartland China Association is a 501(C)3 bipartisan organization that is dedicated to building healthy ties between the heartland region of the United States and the People's Republic of China. USHCA builds those ties through promoting exchanges in culture, education and business. More information is available at USHeartlandChina.org.