On Friday September 16th, the first bi-lateral dialogue organized by both governments around Climate Smart Agriculture took place as a key part of a 3-day visit of Chinese Ambassador Qin's visit to St. Louis. This event was built upon the long history of bilateral collaborations in Agriculture and follows USDA Secretary Tom Vilsack's meeting with Ambassador Qin in June. 
Jim Sutter, CEO of the U.S. Soybean Export Council (a USHCA member organization), welcomed the Chinese Delegation as well as USDA leaders to their office in Clayton, Missouri for the U.S.-China Climate Smart Agriculture Dialogue. Panelists and attendees included leaders from diverse backgrounds in government, academia, industry, and farming.
Counsellor Jiao Dian, who leads the agriculture section at the Chinese Embassy in Washington D.C., opened the dialogue by welcoming Chinese Ambassador Qin Gang, Acting Deputy Undersecretary Jason Hafemeister of USDA, and Deputy Director General Wei Zhenglin of International Cooperation Department of Ministry of Agriculture and Rural Affairs (MARA) to give opening remarks. All three leaders underscored the importance of agriculture to the two countries and their mutual responsibility of solving global food insecurity, as well as reaffirmed their commitment to promoting climate smart agriculture and future collaboration in said field.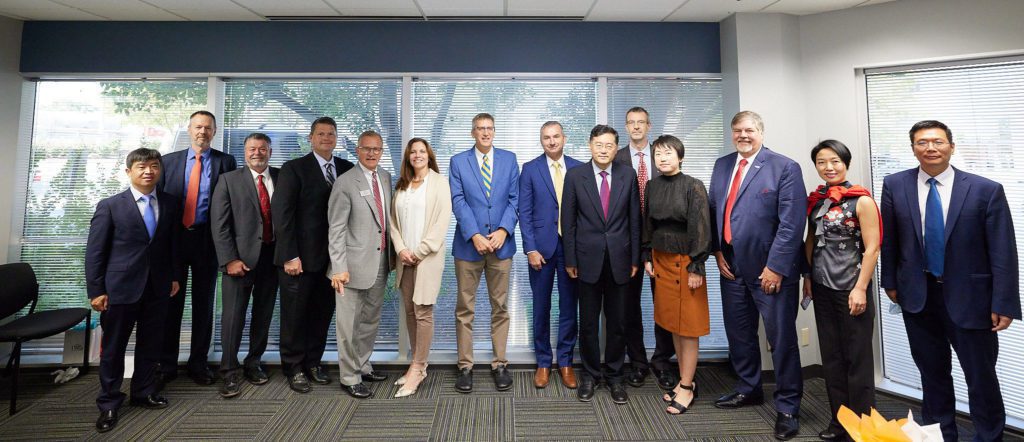 Ambassador Qin Gang
Chinese Ambassador to the U.S.
"Friends from the agriculture community, it's a great pleasure to come to the Midwestern United States again and discuss with you China-U.S. cooperation on agriculture. I paid my first visit to the American Heartland in the spring. During that visit, I got to know many nice and kind American farmers, and met many friends devoted to China-U.S. agriculture cooperation. I saw all the seeds of such cooperation get deeply rooted in the vast Heartland. I was also lucky to be a one-day farmer at Kimberly's farm in Iowa, tasting the toil and the joy of farming. I promised to my friends in the Heartland, see you in the harvest, so today, I'm back.
In my last visit, I was deeply impressed by American agriculture. We have seen that American farmers and agriculture businesses need China, benefit from China, and look forward to greater engagement with China. At the same time, we have come to know that American agriculture, it's going through a green low-carbon transition. Advanced technologies in seed breeding, digital farming, machinery, and equipment as well as proven farming practices all contribute to efficient and sustainable production. They have not only reduced greenhouse gas emission, but also achieved carbon capture and sequestration. I sincerely believe our agriculture cooperation should go beyond the simple buy & sell model. And go deep into agriculture technology, climate action, and with sustainable development.
China's outlook on development is going through a revolution. Green development is part and parcel of our new development philosophy. China has set the targets to reach carbon peaking before 2030 and carbon neutrality before 2060. Though we have not yet completed industrialization and urbanization, with a constant energy demand, we are determined to make these targets within this short time frame. This is our commitment to the people and to building a community with a shared future for mankind. President Xi has said to our farmers many times, "Clean waters and green mountains are as valuable as gold."
We believe agriculture is a contributor to China's green development and agriculture can also create new growth potential. In recent years, China has been working actively on agriculture green development. We have introduced laws and regulations, new black soil protection, acted to enhance the soil's organic matter, realized the zero increase in the use of chemical fertilizer and pesticide, and promoted the application of information technologies and digital farming. China's policies, technologies, and expertise in sustainable development of agriculture are steadily improving.
Many international organizations, foreign R&D institutions and multinational enterprises are getting involved. Several global leading companies in seed and crop protection whose R&D bases are in the U.S. are contributing products and farming solutions to China's green development. I believe as China pursues high quality development, our demand for technology and the services in agricultural grain development will become as strong as that for agriculture products. Our market will remain open and we will continue to share the huge opportunities with American farmers, ventures, institutions and the companies who want to collaborate with China. 
Both China and the U.S. are major agricultural countries. It is our common responsibility to promote sustainable agriculture and to protect global food security for future generations. Not long ago, I met with the U.S. Secretary of Agriculture, Mr. Tom Vilsack, and we reached a common understanding from China-U.S. agricultural cooperation and dialogue. This round table is a pragmatic move to deepen such exchanges. I sincerely hope panelists from both sides can fully use this open dialogue to share your vision, practices and your thoughts on sustainable development of agriculture, so that the discussions today will provide a foundation and the model for deeper-level cooperation in the future. And I want to give my special thanks to Mr. Hafemeister for joining us, representing your secretary of agriculture department and thank you all for your support and participation. I look forward to lively and productive discussion today. Thank you."
Jason Hafemeister
Acting Deputy Undersecretary, the U.S. Department of Agriculture (USDA)
"Thank you, Ambassador, for making a trip to the center of our country and Jim for hosting us. This is a very important meeting, both for the substance of what we will discuss, but also as a representation of the enduring and very important cooperation between the United States and China in agriculture. The United States and China are both very large countries. We occupy a lot of land mass. We're both very large agricultural producers. We are feeding the world and so it's very important that we take leadership roles in achieving our responsibility, which include feeding many people but also treating the planet with respect. And we believe that those things are mutually reinforcing. Good farming practices will allow us to feed the world and we believe that with cooperation we will both be able to do a better job in doing our responsibility.
This is a very auspicious week for us to meet to discuss climate change. Earlier this week, Secretary Vilsack made a major announcement about additional USDA initiatives to promote more research into more climate smart agricultural production, as well as the development of markets for products that are produced using these climate smart production techniques. It follows on another big development in Washington last month, the signing of the Inflation Reduction Act, which includes significant resources directed through the U.S. Department of Agriculture to promote sustainable and climate smart agricultural production. So, we're very engaged with this. We believe in order for us to succeed, in order for us to find better production practices and to encourage farmers to adopt them, we will need to work with partners, including and in particular, China for two big reasons:
One is there is much information to be gained from discussing with other people engaged in the same research and the same objectives as us. And so we want to learn from China, as well as share what we know with China. But there's also a lot to be gained from the commercial integration of our markets. So much of our progress in climate smart farming techniques depends on innovation, it depends on developing new ways of farming, new ways of processing, new ways of distributing the products. And this innovation is going to require significant financial investment. We have come up with some on the USDA side, but we need much more from the others. That investment will not occur, it will not be realized, if entrepreneurs do not believe they can make a profit. And entrepreneurs will not see a profit unless they're able to work with farmers who will adopt their new innovations. And farmers will not adopt new innovations if the products that they are producing cannot be sold into the world market.
And it's a very fitting example that we're here in the home of the Soybean Export Council as the U.S. and China have such a close relationship in soybeans. New innovations that we adopt in the production of soybeans or corn or otherwise need to be available to Chinese consumers and Chinese businesses. And we are only going to have that integration if we continue to cooperate and coordinate and exchange ideas. The ambassador said, "Keep our markets open and continue a long history of cooperation in agriculture." So, I'm pleased to be here at this event to represent the strong partnership between the U.S. and China in agriculture. And also to learn from the experts in the field about how we can tackle this very important challenge. Thank you."
Wei Zhenglin
Deputy Director General of International Cooperation Department, MARA
"Colleagues, friends, good morning. And my friends in Beijing, good evening. Earlier this year, the two heads of state tasked us with taking actions to get the China-U.S. relationship back on track. Since then, our two ministers have stayed in close communication, and both agriculture authorities acted quickly with result oriented matters to explore cooperation possibilities. Today, this event is part of efforts to continue that consensus. On behalf of the Department of the International Corporation of the Ministry of Agriculture and Affairs of China, MARA, I would like to thank Ambassador Qin for your warm invitation for my participation. And also congratulate on the successful organization of this event.
The Chinese government always pays a lot of attention to social economic development and the natural environment. President Xi advocated the importance of both "green and gold." And that "green is gold" as early as when he worked in Zhejiang Province. Climate change, mitigation and environmental protection has been gaining prominence as countries pursue innovative, coordinated, green, open and sharing development. Not just for everyone, but a new vision put forward after the 18th CBC National Congress in 2012. On top of all that, President Xi unveiled China's ambitious goals to peak carbon emissions before 2030 and achieve carbon tracking by 2060 in the 75th session of UN general assembly in September, 2020.
By achieving these goals, China as a major developing country is not only contributing to global response to climate change, but also fostering its own high quality development. As much susceptible as it is to climate change, the agriculture sector also has its influence on climate and environment. Agriculture can make a big difference in climate change by cutting emissions in pursuit of the vision I just imagined. MARA, in recent years, has been pushing for green transformation across the value chain by investing more in research and development and extension of green agriculture technology, in order to increase agricultural resilience to climate change. 
Which are, first, the protection and utilization of agricultural resources have been enhanced. Agriculture technology and equipment have been enhanced. The overall rate of modernization, empowering, sowing and harvesting, reached 72%. The number of the smart agriculture machinery equipped with the BeiDou navigation satellite system and 5G information system exceed 600,000. And the drones used for plant protection reached more than 100,000. The efforts for agriculture emission reduction and pollution control continue to achieve outcomes. The use of fertilizer and pesticide has declined for four consecutive years. The farming environment has improved remarkably with better recycling of agricultural waste. The fertilizer use efficiency for major grain crops reached 40.2 percent. More than 76 percent of animal waste, 87.6 percent of straw and over 80 percent of agricultural film have been recycled.
Now, I would emphasize that food security remains the top priority for China's agriculture sector due to the resources constraints. China has to make those policies and the science and technology innovation play a greater role in maintaining the balance between food security and environmental protection. So we can increase food output and efficiency while conserving the ecosystem. China will remain committed to green agriculture development and redouble our efforts to improve the climate resilience of agriculture, contributing more to achieving carbon peak and carbon tracking.
Ladies and gentlemen, as two major agriculture producers, China and the United States, each has its own approach to climate smart agriculture. Which could be a good topic for bilateral exchange and cooperation. We've noticed that USDA is ramping up climate actions, such as programs on climate smart agriculture and cover crops. China is also stepping up climate smart efforts in areas including green agriculture, food loss and waste reduction, soil health and conservation tillage. For two countries we are going to take this opportunity to provide more possibilities for dialogue and results oriented cooperation between research institutes and business from both sides.
We also hope despite setbacks in bilateral relationships and the COVID-19 pandemic, MARA and USDA will work together to resume exchange and cooperation at all levels. I would like to see the smooth, healthy and sustainable development of agriculture trade, science technology exchange, as well as personal visits. I sincerely hope, as the people who are working in the field of international cooperation, I wish we can see you here in China or meet with you there in the United States. Thank you very much."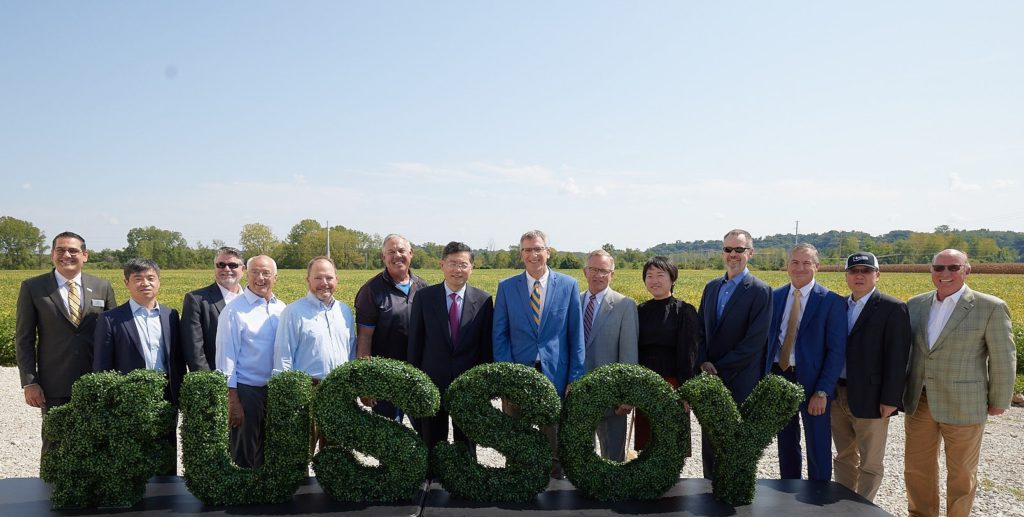 Jim Sutter, CEO of US Soybean Export Council, then set the stage for the dialogue then moderated the sharing of insights by experts from both countries:
" This is the 40th anniversary of our U.S. Soy Farmers and USDA working together with the industry in China to try and advance animal agriculture, aquaculture, and various things related to the utilization of soy. And it's amazing, when you think about all the changes that have happened between 1982 when the first office was opened in Beijing and today. And the way that China has grown into a world leader in many industries, the soy processing industry, and swine production."
"Today we're here to talk about a topic that is front of mind for many people, companies and organizations. Sustainability and climate smart ag. As the opening speakers talked about, there are many things being done by our respective countries, our respective governments. But there are also things being done by others, and this is what we're going to get into now with the panel discussion. Things being done by farmers, things being done by many companies that are involved in agriculture to try and take steps. And I think it's wonderful, the partnership and the collaboration, that we can put forward in this."
Jim Sutter
CEO of US Soybean Export Council (USSEC) 
Experts from a range of fields then put forward examples of the significant strides which have been made by both countries. Chinese panelists provided comprehensive overviews of their own efforts from ministerial and research perspectives. Jiang Yekui of Syngenta Group China, brought up their Modern Agriculture Platform, which includes over 500 centers across China helping farmers adopt sustainable practices, as well as their agribusiness alliance to commit to low carbon standards. Xiaobo Qin, Professor at the Chinese Academy of Agricultural Sciences, enumerated the many types of climate resilient agtech being utilized in China, ranging from water conservation infrastructure, to breeding tech, to crop pest control tech, in addition to greenhouse gas mitigation technologies. Dr. Xinyu Wei of MARA, spoke of best practices from a more holistic perspective, clarifying that agricultural sustainable development will require a combination of approaches, everything from resource protection to the restoration of agricultural ecology. 
Jiang Yekui, Chief Sustainability Officer of Syngenta Group China: "I believe innovation is still in a key position to deal with climate change. Innovation can bring higher yields and higher amounts of resistant seeds or innovative pesticides with higher efficiency and lower residue…we should escalate innovation and enrich our toolbox to meet the challenges of climate change."
Xiaobo Qin, PhD, Professor of Institute of Agricultural Environment and Sustainable Development, Chinese Academy of Agricultural Sciences: "Climate smart agriculture is a new concept of agricultural system transformation…aiming to achieve the three goals: adapting to climate change, improving agricultural production and reducing greenhouse gas emissions."
Dr. Xinyu Wei, Engineer of the Division of International Cooperation in Rural Energy & Environment Agency, Ministry of Agriculture and Rural Affairs: "The agricultural sector in the United States has a high degree of agriculture organization, robust information services, world development, agricultural biotechnology, and mature farm business model, which are in line with the direction of the China's agriculture development plan. So in the future, China and the U.S. will further enhance the corporation in agriculture development and they jointly promote the development path of agriculture modernization, which leads to better agricultural green development."
Panelists from the U.S spoke of their own targeted efforts on the agribusiness and research fronts. Stan Born, USSEC Vice Chair and himself a soy farmer, referenced precision agriculture tools, and farmers' access to biotechnology in regards to seed genetics and crop protectants, all of which increase sustainability and improve productivity. Gregg Christensen, Vice President of Sales at Bunge, discussed the corn sustainability program within their milling business, which incentivizes growers to implement regenerative agriculture practices. Natalie DiNicola of Benson Hill introduced the company's use of data analytics and breeding techniques as a food technology company to increase nutrient density and reduce resource usage. Dr. Marty D. Matlock of the University of Arkansas touched on the importance of soil health and sequestration of carbon in soil. Dr. Bob Reiter of Bayer CropScience detailed how short stature corn could revolutionize corn production. Koenraad Verbrugge of IFF rounded out the panel touching on the optimization of the supply chain to ensure food sustainability.
Stan Born, U.S. Soy farmer and USSEC Vice Chair, USSEC: "[The concept of sustainability] contribut[es] to the profitability of my operation and that really leads to my long term business continuity and passing things on to the next generation…Farmers understand sustainability because it equates to good business practice."
Gregg Christensen, Vice President of Sales, Bunge: "Serving our customers in China is a key priority for our continued success as a global grain stream…Sustainability is really at our core and all the decisions that we make across our value chains are really built on the foundation of ethical leadership, accountability and environmental stewardship."
Natalie DiNicola, Chief of Corporate Affairs, Benson Hill: "Our mission is to set the pace and accelerate the pace of innovation in food production. We believe that the natural genetic diversity within plants is a hugely important resource to help build a more resilient and more nutritious food system globally. And by combining that with more connectivity across the whole food value chain from the farmer, really the seed developer, and the farmer to the consumer, we can help feed and nourish the world and meet some of the nutrition challenges, as well as the environmental challenges that we're facing."
Dr. Marty D. Matlock, PhD, PE, BCEE, Biological and Agricultural Engineering, University of Arkansas: "We can remove more carbon from the atmosphere than agriculture puts in. We can become more than carbon neutral. We can become carbon negative in global agriculture, but we can't do it alone. We require an international collaboration and the two greatest agriculture producing nations in the world represented in this room are key to that goal."
Dr. Bob Reiter, Head of Global R&D, Bayer CropScience: "It's imperative that the phase one commitments that have been made, are adhered to, and followed through because it allows markets to be open and helps to benefit both China and the United States. And also, we would love to be able to further participate in the Chinese market. So with direct foreign investment, we'd love to see updates to these initiatives that would allow companies like ourselves to bring innovation to Chinese farmers in the same way we bring them to other farmers around the world."
Koenraad Verbrugge, Product Line Manager Animal Nutrition and Soy Polymers, IFF (International Flavors & Fragrances): "It's not just what happens at the farm. It's the impact between the farm and the farm, and the farm on the environment: irrigating crops, water usage…the farm you grow up on today, is it still going to be around 10 years from now?"
 Throughout the conference it was stressed that innovation–most especially innovation spurred by collaboration–was the best means of combating the climate crisis. Representatives from both countries were eager and ready to discuss recent policy efforts to support future research, as well as innovations in best practices and technologies.
After the presentations from the experts, the dialogue was also joined virtually by four special guests who applauded this significant accomplishment: USHCA Chairman & CEO, former Governor of Missouri Bob Holden, USHCA Strategic Advisor Ambassador Kenneth Quinn, and Rick and Grant Kimberly, who had hosted Chinese Ambassador at their family farm this past April.
"Agriculture truly is an institution that builds relationships and builds bridges of opportunity between different countries and different regions in different worlds."
Bob Holden
Chairman and CEO, U.S. Heartland China Association
Former Governor of Missouri
"It was in St. Louis more than any place else in the United States, that the collaboration and innovation around one of the most significant breakthroughs ever and achievements ever took place. And that was the development of biotechnology."
Kenneth Quinn
USHCA Strategic Advisor
Former U.S. Ambassador to Cambodia
"We must continue to adapt to new technologies, new challenges. It's nothing new. We have adapted to challenges in agriculture all the time. Every single year is a different year and we always have new challenges every time. So we have to be very nimble. We have to continue to look at our ways to educate and learn more. And certainly, working together with industry, with farmers, with the government, all of it plays an important role."
Rick Kimberly and Grant Kimberly
A brief discussion followed these remarks then, at the conclusion of the dialogue, all attendees were invited to a farm tour and BBQ lunch hosted by Missouri Soy at Warren Stemme Farm in Chesterfield, Missouri.
USHCA applauds this successful dialogue as it reaffirms the significant benefit of U.S.-China collaboration in agriculture for both countries, not just in trade but also as a solution to counter the impacts of climate change and in addressing global food security. USHCA is proud to have played a key role in the organization of this event and look forward to further supporting bilateral collaborations in agriculture at the 2023 U.S.-China Ag Roundtable next year. Stay tuned!