As Mayor of Carmel, Indiana, a city with more than 130 corporate headquarters – many of them associated with international corporations – I was proud to enter into an official partnership with the City of Xiangyang, Hubei as our new Sister City in June of 2012.
The Carmel-Xiangyang Sister City initiative was implemented to create more educational, cultural and economic exchange opportunities between our two cities. Although we are separated by distance and oceans, we share a common desire to learn from each other through cultural exchanges and business partnerships.
According to the most recent statistics from our Indiana Economic Development Corporation, Indiana has at least 21 China-based businesses with establishments here. We are fortunate to have one of those here in Carmel.
Stoneware Inc. was established here in 2000 and acquired by Lenovo in 2012. The company is a manufacturer of cloud computing and classroom management software. Stoneware serves clients in commercial, manufacturing and health care business sectors and fits in well to Carmel's growing family of high-tech businesses.
Carmel is home to many residents who came to Indiana to study or to work. Their presence is celebrated each year by the City of Carmel during the annual Chinese Mooncake Festival, which we hold in our Carmel Arts & Design District.
Carmel is also home to the Chinese School of Chinese Community Church of Indianapolis, which was founded here in 1982. It has decades of experience in promoting Chinese language and culture through the Chinese language classes they offer. In addition to the lessons from the curriculums, the school provides learning experiences through various academic contests, festivals and fun activities.
The City of Carmel and its residents join with our friends in Xiangyang in looking forward to another year of sharing our experiences and ideas relating to the arts, culture, education, trade, business and investments with Xiangyang.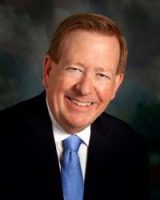 Jim Brainard市长是卡梅尔的第一位连任七届的市长。在他的任期内,卡梅尔迎来了惊人的发展和繁荣。它被认为是美国发展最快的城市之一。在过去的25年里,城市人口从2.5万增长到近10万。公园用地、绿地和步道从40英亩增加到800多英亩,包括莫农步道和中央公园。