After a 2-year hiatus due to the pandemic, the China General Chamber of Commerce-Chicago (CGCC-Chicago) relaunched this annual in-person GALA on December 8th, 2022, in Chicago. Long celebrated as one of the leading business & investment events in the Heartland Region, this year's GALA, themed Reopen for Our Future was co-organized by CGCC-Chicago, World Business Chicago, and USHCA.  
Mr. Michael Fassnacht, CMO of the City of Chicago & CEO of World Business Chicago opened the afternoon segment that included a recap of the annual CGCC USA Business Survey Report 2022, a Clean Energy and Climate Change Panel, a Mayors Roundtable, a China Outlook: 2023 Panel and an Ambassador's Discussion.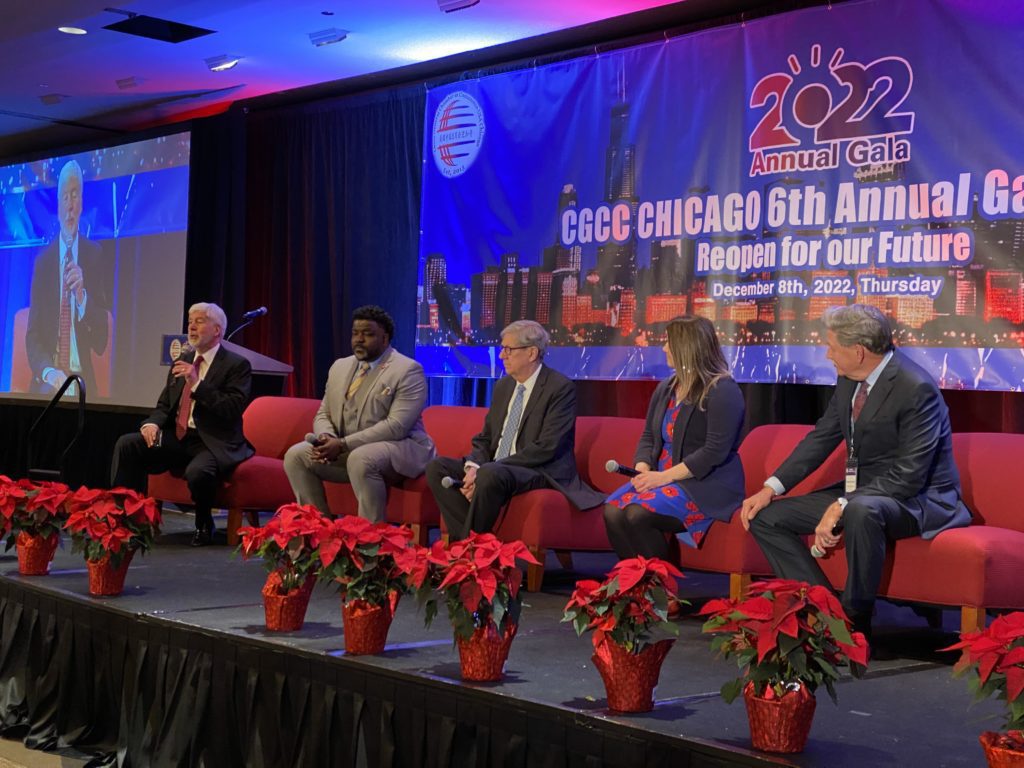 The Mayor's Roundtable Discussion was moderated by former Governor of Michigan Rick Snyder. Participating mayors came from 4 different Heartland states: Mayor Tito Brown (Youngstown, OH), Mayor Chris Koos (Normal, IL), Mayor Katie Rosenberg (Wausau, WI), and Mayor James Hovland (Edina, MN).
Mayor of Chicago, Lori Lightfoot, joined the attendees in-person, and recognized the contribution of Chinese companies to the local economy in her remarks for the evening program.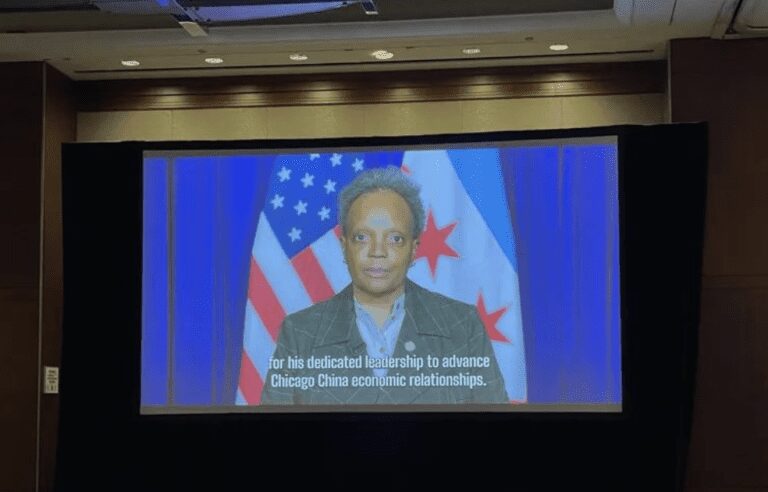 "After a two year hiatus, I am glad to see this annual event return to Chicago. This year's theme, 'Invest in the Midwest' focuses on the significant economic ties that exist between Chicago, the Midwest, and China.
Chicago is home to nearly 120 Chinese-based companies in the area, creating thousands of jobs for Illinoisans and beyond. And, notably, CRRC Sifang America, headquartered here in Chicago, is making headlines as they bring railcar production back to Chicago after a more than 50 year absence. Just this year, CRRC delivered its first 400 El cars for the CTA, built from their Chicago factory in the Calumet neighborhood. From that factory, CRRC created 200 middle class manufacturing jobs and an incredible economic impact on our Southeast Side of our city. CRRC is one example of our shared economic interest and commitment to reopening the future. We are so proud to have two sister cities in China, Shanghai and Shenyang, and to have an eight city gateway agreement. 
As we join together for this event, please know that Chicago is ready to support continued investment from Chinese companies in Chicago…I wish you a very happy and successful evening, and I look forward to doing my part to further our economic growth, prosperity and relationship."
-Mayor of Chicago, Lori Lightfoot
Chinese Ambassador to the United States, QIN Gang, also traveled to the GALA and gave the keynote remarks: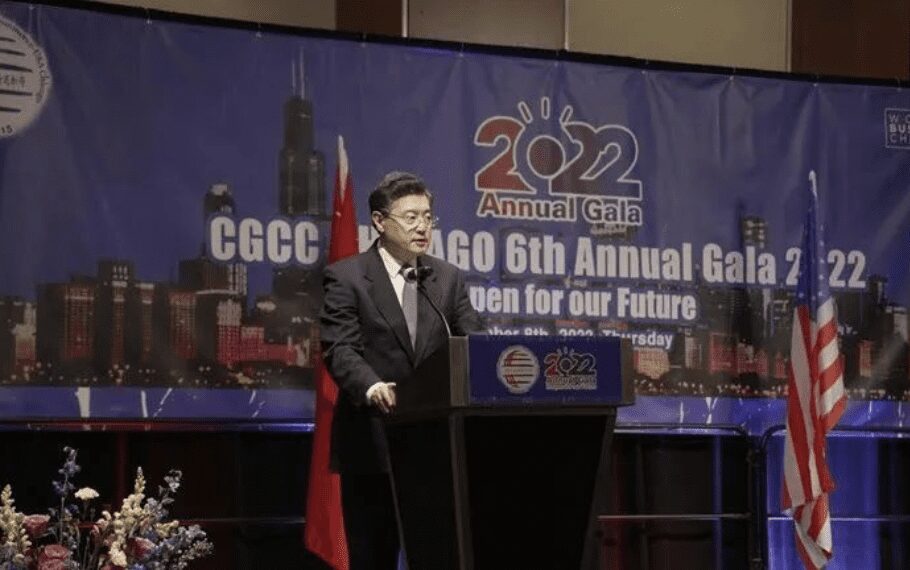 "The American Midwest and the Heartland are often referred as the 'flyover country.' The way I see it, this is a vast land with abundant resources, developed industries, and vibrant culture, and it has developed great cooperation and engagement with China. It is home to the first pair of China-U.S. sister cities (St. Louis and Nanjing), and has attracted many Chinese investment projects, such as Wanxiang and Fuyao. Many friends and organizations here have been working tirelessly for the ties and engagements with China.
Over the past 500 days of working here, I have visited many Midwestern states. I participated in the Global Economic Summit in Indiana and the Aspen Security Forum in Colorado. I had a test drive of the U.S.-manufactured new-energy vehicle at the North American International Auto Show in Detroit. I attended two China-U.S. agriculture roundtables, one in Iowa and the other in Missouri, and tried my hands with both spring farming and fall harvest. I visited friends old and new. I gave a class to young kids learning Chinese in Yinghua Academy in Minnesota, and one of them, Zoey Cardamone from Yinghua Academy has just won the world champion of "Chinese Bridge" Chinese show for foreign primary school students. I talked with students and teachers of many universities. I threw out the first pitch for St. Louis Cardinals.
I have come to appreciate more how kind-hearted, hard-working and friendly the American people are, and how deeply committed the Midwestern United States is to interact with China. I look to our friends in the Midwest for more support and contribution to China-U.S. relations to achieve greater friendship and success."
-Chinese Ambassador to the United States, Qin Gang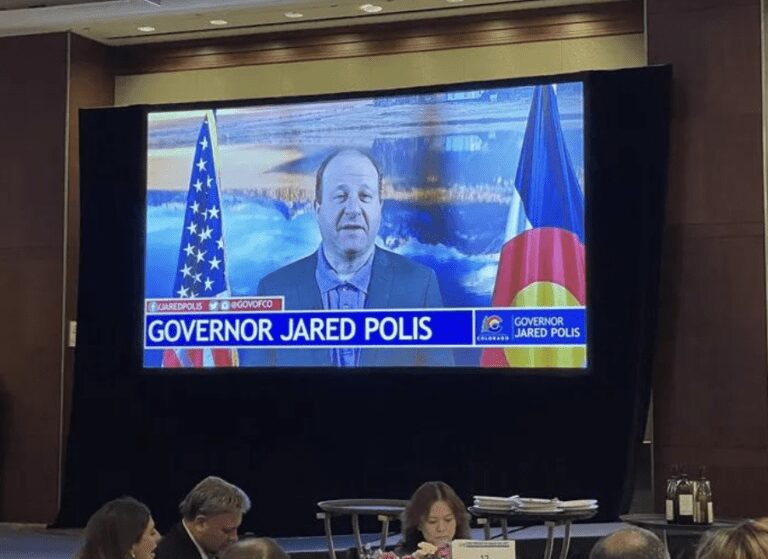 Also providing remarks were Governor of Colorado, Jared Polis (pre-recorded), Raja Krishnamoorthi, U.S. Representative for Illinois's 8th Congressional District, and Samir Mayekar, Deputy Mayor, Economic and Neighborhood Development, City of Chicago, who shared a congratulatory letter from Secretary of Commerce Gina Raimondo.
The GALA Dinner guests were treated to a Table Tennis Demonstration Match in celebration of the 50th Anniversary Celebration for Ping-Pong Diplomacy.  Ping Lang, Head Coach of China's women's national volleyball team and former head coach of the U.S. women's national volleyball team, Virginia Sung, CEO at USA Table Tennis, incoming board of the U.S. Olympic and Paralympic Committee, and USHCA Board Member Mike Froy presented awards to the 3 winners.
Before the closing remarks by Consul General ZHAO Jian of the Chinese Consulate in Chicago, 4 special awards were presented:
Steve Orlins, President of the National Committee on US-China Relations, received the United States – China Friendship Envoy Award presented by Ambassador Qin Gang

Bank of China- Chicago branch received the Social Responsibility and Contribution Award 

Fuyao Glass America received the New Energy Utilization Award 

SAI TECH received the Clean Energy Development Award presented by USHCA Board member Jim Schultz
Close to 500 guests including state and local officials as well as business leaders from many midwestern states such as Iowa, Wisconsin, Kansas, Colorado, Missouri, Ohio, North Dakota, Illinois, Indiana, and Minnesota gathered to celebrate Chinese investment in the Midwest and the 50th anniversary of Ping Pong Diplomacy. 
Jim Schultz presenting the Clean Energy Utilization Award to SAI Tech.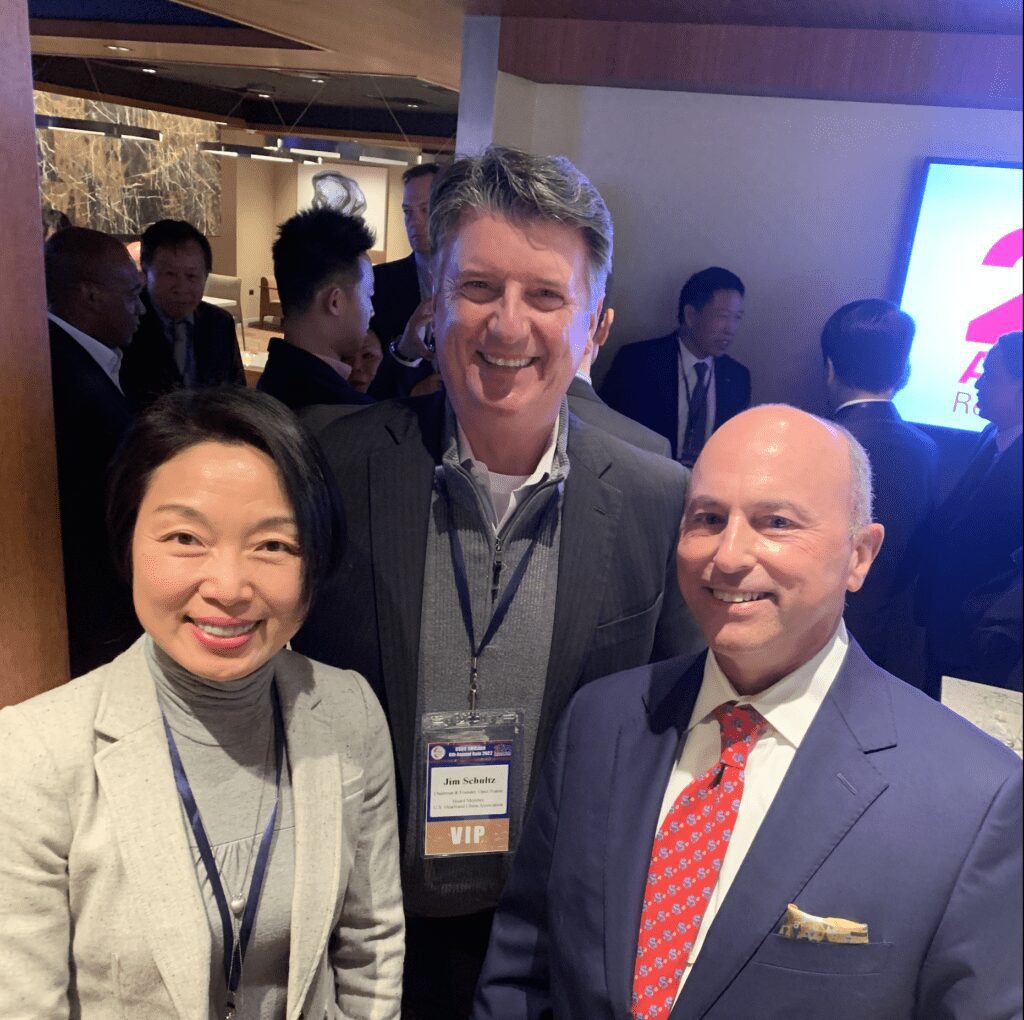 USHCA Board Members in attendance: Linda "Qiaoni" Jing, Jim Schultz, Mike Froy.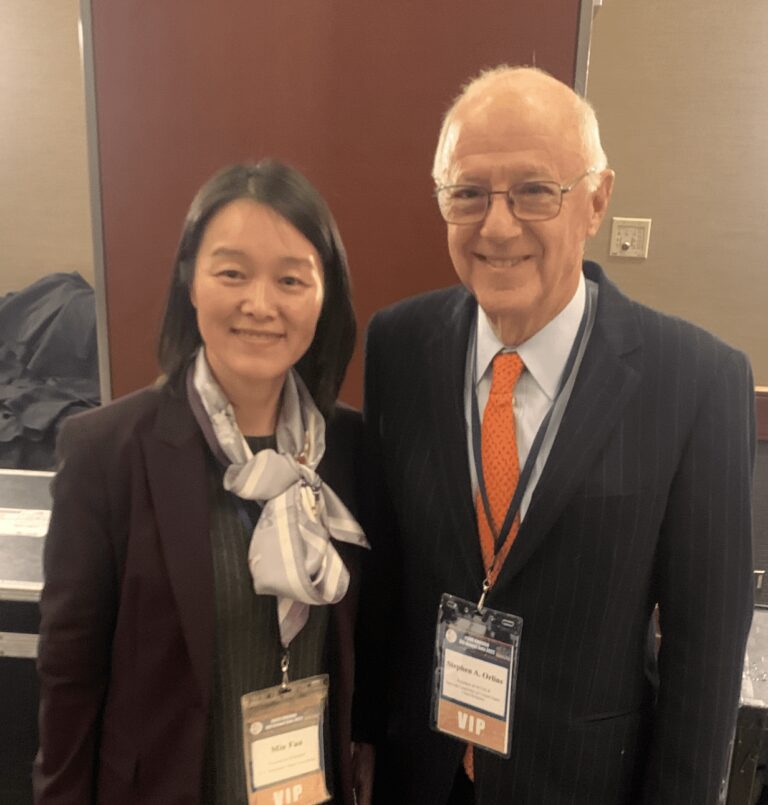 Steve Orlins and Min Fan.
From left to right: Min Fan, Mayor Rod Roberson, Mayor Chris Koos, Mayor Katie Rosenburg, Jim Schultz, Amb. Qin Gang, Mayor Jim Hovland.