August 17-18th, 2022 | Organized by USHCA
U.S.-China Educational Exchanges have brought tremendous benefits to both countries in the past four decades. But, growing geopolitical tension and the pandemic have upended traditional models of exchange in many ways. College and university leaders, who have played an important role in developing positive relationships between these two nations for decades, are especially aware of the importance of positive communications, productive dialogues, and continued educational exchanges between the world's two largest economies for their communities, institutions, faculties, and students.
As we prepare for the reopening of exchange programs with China, to maximize the opportunity for deeper engagement by the regional universities from the U.S. with peers from China, USHCA organized a special convening for education leaders to re-envision the future of U.S.-China Educational Exchanges.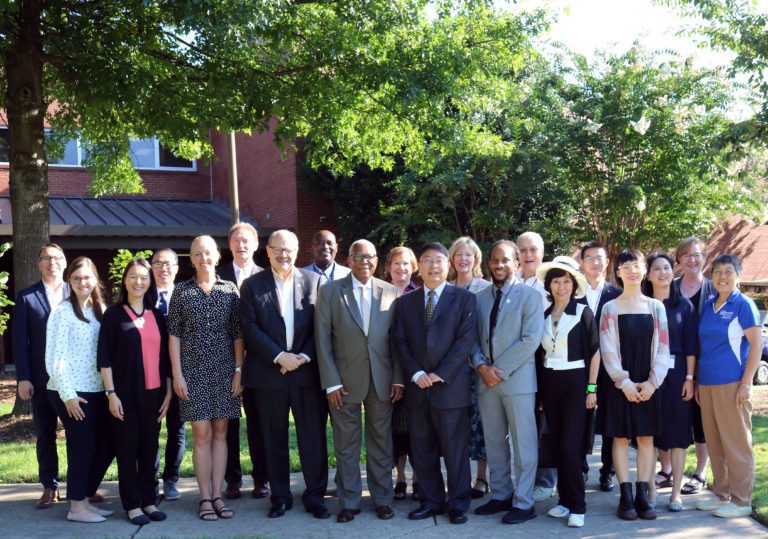 Over two days, senior leaders from 19 organizations from the U.S. and China gathered on the campus of Tennessee State University (TSU) to reflect and discuss past learnings and future opportunities of the U.S.-China educational exchange. 
Participating organizations included:
1890 Universities Foundation

Bowling Green State University

Center for China and Globalization (China)

Chinese Embassy's Education Section

Drake University

Eastern Michigan University

Emporia State University

Fort Valley State University

GMEO

Guizhou University (China)

Missouri State University

Murray State University

Northwest Agriculture and Forestry University (China)

Sichuan Agricultural University (China)

St. Cloud State University

Tennessee State University

University of Electronic Science and Technology of China (China)

Yunnan University (China)
Before a meet-and-greet dinner for all in-person participants, Dr. Glenda Baskin-Glover, President of the Tennessee State University, welcomed Chinese Embassy Education Section representatives, Counselor Zhang Yun and Mr. Fang Li, along with USHCA Education Committee Chair and President of Eastern Michigan University, Dr. James Smith and the USHCA team. They spoke of the importance of university exchange programs, the historic significance of HBCUs like Tennessee State University, and shared many laughs telling stories about their backgrounds. 
(From left to right: Min Fan, Katherine Newton, Dr. James Smith, Dr. Glenda Baskin-Glover, Dr. Arlene Nicholas-Phillips, Counselor Zhang Yun, Mr. Yiwei Fang. Credit: Aaron Grayson, TSU)
After a lively dinner hosted by Dr. Glenda Baskin-Glover, attendees then convened at TSU's Agricultural complex auditorium to join the speakers and participants from China who are attending by Zoom.
Dr. Glenda Baskin-Glover, USHCA Chairman & CEO Bob Holden, and Ford Foundation China Director Elizabeth Knup kicked off the program with inspiring opening remarks. President James Smith then led the participants from both countries through Part 1 of the program.
"It is such a privilege to welcome you to Tennessee State University. We are excited to host this USHCA conference, and we greet you in the name of academic excellence. Our calling is educating the talented students that make their way to TSU. We have many students and faculty from China on our campus, and we need to grow and enhance that. We remain committed to becoming a national model for educating top students and achieving global recognition in excellence in education, research, service, and in partnerships. That's why this is so important. We want to expand that global stage."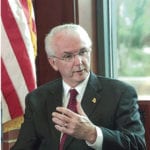 "The possibilities we have going forward are so exciting. To me, it goes right to the heart of what we should be doing, which is opening doors for young people from around the world. The key thing is to work together to do the best thing for our communities, for our region, and for our [country]. I know times are difficult…but we can find middle ground, and we can find ways to work together."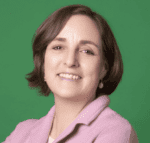 "I personally benefited hugely from educational exchanges with China…and I don't think that I would be sitting here today, running the Ford Foundation's office in Beijing, if I hadn't had that early input from my higher education experience to really help open my eyes, … and expand my horizons. Personally, I feel deeply committed to this work. This kind of engagement is the foundation for our attempts to build empathy and compassion for those not like us, and for how we are going to solve enormous global problems together. This kind of engagement between students and faculty is a big endeavor. It takes time, and doesn't just happen. One of the first MOU's between the U.S. and China was in the area of educational exchange. Educational exchange has always been at the forefront of forging a relationship between the U.S. and China. We are at a really important inflection point in the relationship. The challenges are quite high and different from the ones we faced in the 70's and 80's. Now, we know each-other better, and the engagement is more challenging and requires more dedication. This effort is important in a fundamental way in turning the corner in the US-China relationship."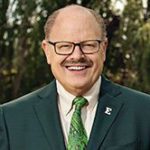 "I have spent a lot of time in the last 15 years [promoting] global education, and I think one of the things that all of us are aware of is that as regional universities, it is now time to seize our moment."
Following the opening remarks, Counselor Zhang Yun of the Chinese Embassy Education Section shared Chinese perspectives on U.S-China educational exchanges, and the importance of this convening and subsequent conversations.
Case studies were then presented by Eastern Michigan University, Missouri State University, GMEO, Northwest A&F University, Guizhou University, Yunnan University, and Sichuan Agriculture University, which laid foundation for stimulating discussions that extended well into the night and the second day of the program.
The second day began with welcoming remarks from Ambassador Kenneth Quinn, USHCA Strategic Advisor.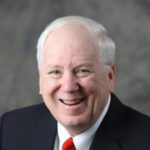 "In Indochina, 12,000 miles from where I grew up, I suddenly could see things about my country and the American people that I never could see when I am here. It is when you are in a different cultural setting that you come to understand your own identity and background. You come to understand what is … special about you and others that makes one unique, and it is such an insight for understanding."
Insights and reflections on the status of international students in China and Chinese students in America were then presented by Dr. Mabel MIAO of the Center for China and Globalization and Dr. Yingyi MA of Syracuse NY respectively.  Susan Thornton, USHCA Board Member, also shared her views on the opportunities and challenges of the U.S.-China educational exchange within the context of the current bilateral relationship and answered questions from the participants.
Following more discussions, President James Smith, USHCA's Educational Committee Chair, introduced USHCA's Regional University Compact, which is envisioned to be a collaborative community of regional universities that wish to advance their educational exchanges with China together.  All participating regional universities responded positively to this concept and further details are being developed to launch this Regional Compact later this year.
Additional discussions and conversations before and over the working lunch at the end of the event further reinforced the unique value that USHCA's effort has brought to the Heartland community.  There is great benefit to be gained through educational exchanges with China for many heartland regional universities that lack dedicated China resources.  Their needs and interests are significantly different from typical coastal institutions and deserve an approach that is uniquely their own.  This timely convening organized by USHCA has laid the foundation of a better model for regional educational institutions going forward.
"Thank you for organizing such an excellent USHCA Conference. What a pleasure to connect with others from universities across the Heartland! We found the sessions and group discussion to be valuable as we all face the challenge of how best to move forward into this new era of U.S.–China collaboration."
-Dr. Brad Bodenhausen & Dr. Peng Zhang, Missouri State University
We want to acknowledge the support of Ford Foundation and Henry Luce Foundation, which made this program possible.